Germany's second Lockheed Martin C-130J is scheduled to arrive at its new home this coming weekend – landing at Evruex air base in northern France.
It will join an eventully 10-strong Franco-German transport squadron that is slowly taking root in the Normandy countryside: France has already received a pair of each of the C-130J transport and KC-130J tanker variants, while the latest German aircraft is the second of six units on order – three C-130J-30s and three KC-130Js.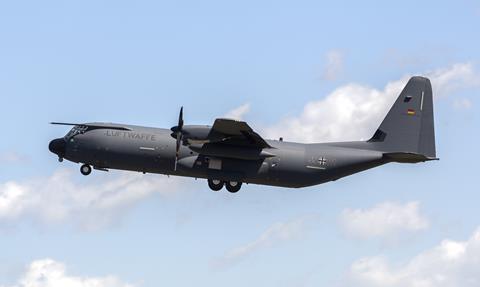 Berlin has already taken delivery of the new aircraft, says Tony Frese, vice-president of air mobility and maritime missions at Lockheed, and the C-130J – bearing the German military registration 55-02 – is due to be ferried across the Atlantic over the coming days.
US Air Force personnel will perform the delivery flight due to its acquisition through the Foreign Military Sales process, he adds.
The first unit to be handed over to Germany is on the ILA Berlin air show static display, while the third aircraft is currently in flight-test at Lockheed's Marietta, Georgia site. The initial KC-130J is in the final stages of production, supporting the start of delveries next year and which will be complete by 2024.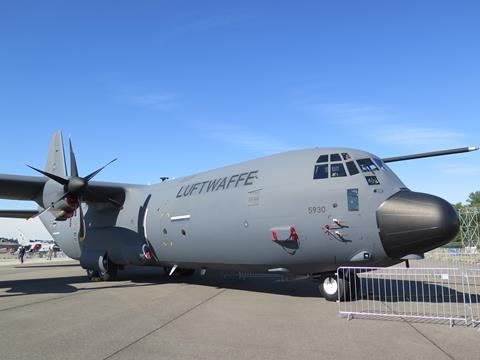 Meanwhile, Lockheed has set up a team in Marietta to "address the demand" for used C-130s. It hopes to acquire secondhand J- or even H-model aircraft to meet that need, says Frese.
"We do see a lot of interest in used J aircraft," he adds.

Dominic Perry is deputy editor of Flight International but also contributes extensively to flightglobal.com. Although specialising in the coverage of the helicopter industry, he has written on most topics in aerospace – be they commercial, defence or business aviation. In addition, there has been an increasing focus on the decarbonisation of the industry and zero-emission flight initiatives.
View full Profile