Serbia has ordered a pair of Airbus Defence & Space C295 medium transports, with the twin-turboprops to be delivered from late next year.
"The contract was signed in Madrid in the presence of senior government members of the Republic of Serbia and Spain," Airbus announced on 23 February.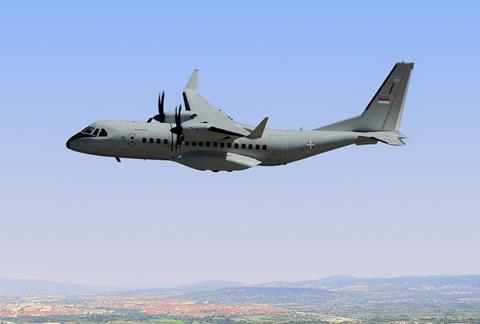 Equipped with Collins Aerospace Pro Line Fusion avionics, the C295s "will contribute to enhance the air transport capabilities of the Republic of Serbia", Airbus says. The Serbian air force has one aged Antonov An-26 in current use, Cirium fleets data shows.
Serbian President Aleksandar Vucic has valued the aircraft acquisition at around €66 million ($73.5 million), with another €15 million to cover services including personnel training. The nation's defence ministry says deliveries will take place in late 2023 and early 2024.
"This contract will be accompanied by a government-to-government supervision agreement between the ministries of defence of Spain and the Republic of Serbia, which aims to study the development of future defence programmes between both nations," the airframer adds.
"Airbus is committed to maintain and foster its close collaboration with the Republic of Serbia, which already operates Airbus military solutions," it notes. The nation has already acquired H145 light-twins from Airbus Helicopters.