Sikorsky will formally propose its S-70i Armed Black Hawk for a Philippine air force attack helicopter requirement.
The proposal for six helicopters would build on Manila's order for 16 S-70is in a combat utility configuration, says Jon Rudy, regional executive at Sikorsky, a unit of Lockheed Martin.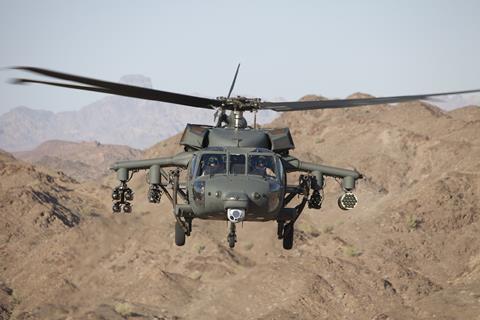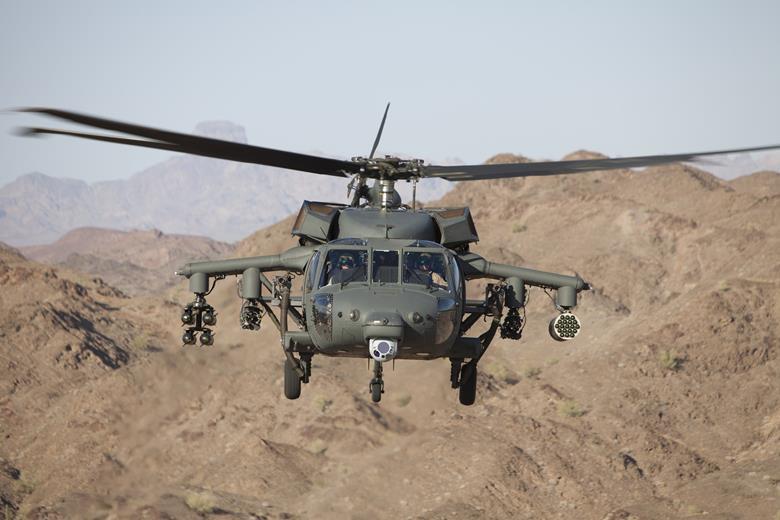 The 16 S-70is are being produced at the company's PZL Mielec unit in Poland. Deliveries for the order, which Sikorsky sealed in early 2019, will commence in the fourth quarter of this year and will be completed in 2021.
"We believe that Armed Black Hawk is compelling for the Philippines air force… in that it is going to have 100% baseline commonality with their combat utility helicopters," says Rudy. "So you can imagine the economies that are associated with support, training and logistics."
As with Manila's baseline S-70is (also designated as UH-60s) the Armed Black Hawks would be produced at PZL Mielec. If necessary, the armed version can be reconfigured for other missions, such as transport and humanitarian relief.
The company has already mooted the proposal with Manila. Should the Armed Black Hawk be selected, Rudy says the first example could be delivered in June 2022, with the balance in 2023.
Joe Palumbo, UH-60 programme director at Sikorsky, adds that the helmet-based targeting system available for Armed Black Hawk offers pilots the ability to engage targets precisely.
Manila's dearth of precision strike capabilities was highlighted during its five-month battle against Islamic militants in the town of Marawi in 2017. A lack of precision munitions slowed the army's campaign to retake the town, resulting in an extended campaign and significant collateral damage.
Sikorsky will offer the Armed Black Hawk on a direct commercial sales basis. The other two US helicopters in contention, the Bell AH-1Z Zulu and Boeing AH-64E Apache, are being offered under Washington's Foreign Military Sale (FMS) mechanism.
Rudy claims that the Armed Black Hawk will be less costly to procure and operate than dedicated attack helicopters, and be within Manila's budget.
Media reports from the Philippines suggest the budget for the requirement is in the region of $250-265 million.
In May, a US Defense Security Cooperation Agency release indicated that the cost of six AH-64Es and related equipment and services would be $1.5 billion, while six AH-1Zs would cost $450 million.
Both FMS packages contained additional equipment, weapons, spares, support equipment, and other products and services. The AH-64E package placed a heavy emphasis on precision weapons.
Manila has also flirted with the Turkish Aerospace T129 ATAK. It is understood, however, that US government export restrictions related to the type's US-built LHTEC T800 engines would complicate any T129 buy.
The Armed Black Hawk can carry the same combat load as an Apache, with up to 16 Lockheed AGM-114 Hellfire air-to-surface missiles, 70mm rockets (guided or unguided) and forward-firing guns.
Rudy says Sikorsky has also discussed the Armed Black Hawk with several other governments in the Asia-Pacific region.

Greg Waldron is the Asia Managing Editor of FlightGlobal, responsible for the team's airline, aerospace, and defence coverage across the region. He has worked at the company since 2009. In the airline space, Waldron has conducted dozens of interviews with airline leaders in the Asia-Pacific. He also covers areas such as MRO and safety. On the defence beat, Waldron has written extensively about the rise of Chinese airpower, as well as broader airpower developments around the region, such as indigenous fighter programmes, and regional acquisitions of foreign equipment. In addition, Waldron writes about commercial helicopters in the region and business aviation. Waldron worked has a freelance journalist with his work appearing in several business publications.