General Atomics Aeronautical Systems will deploy a company-owned and -operated MQ-9B SkyGuardian unmanned air vehicle (UAV) to the UK in July, in order to conduct a series of capability demonstrations for its Royal Air Force (RAF) customer and other European militaries.
The UK last year signed a £65 million ($89 million) contract for its first three MQ-9B-derivative Protector RG1s and an initial three ground control stations (GCS), and General Atomics performed a first flight of the UK variant in September. The RAF says a follow-on deal for another 13 aircraft, four GCS and related support equipment should be finalised this year.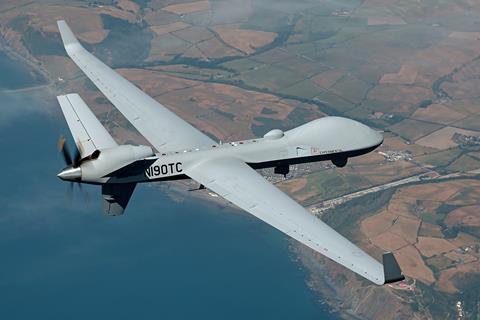 To replace the RAF's current General Atomics MQ-9 Reapers, the remotely piloted air system (RPAS) is scheduled to enter operational service in 2023. Advances over the previous model include automatic take-off and landing, 40h-plus operating endurance, the ability to operate in icing conditions and to operate routinely in non-segregated airspace.
General Atomics will deploy the SkyGuardian to RAF Waddington in Lincolnshire; its future home in UK service. The aircraft's arrival will come three years after the company flew an MQ-9B from its Grand Forks site in North Dakota to debut at the Royal International Air Tattoo, sporting temporary RAF markings.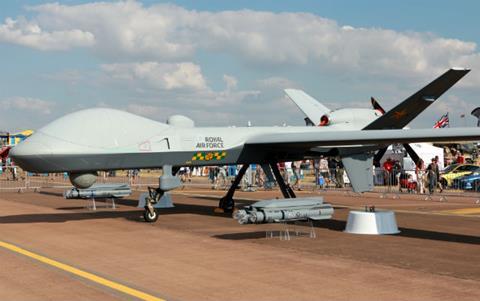 "Operating in the UK will assist in the development of the revolutionary detect and avoid technology which will permit Protector to fly in all UK airspace safely," the service says. "It will also allow the RAF to refine the requirements needed to fully integrate Protector operations into Waddington, where the RPAS will operate alongside [manned] fixed-wing aircraft."
During its deployment, General Atomics says the SkyGuardian will also "undertake a series of operational capability demonstrations for NATO allies, including the Netherlands". The company is already under contract to provide the Netherlands with MQ-9 Reapers, for use as intelligence, surveillance and reconnaissance assets.
"The [deployed] aircraft will be configured with a multi-mode maritime surface-search radar with inverse synthetic aperture radar imaging mode, an automatic identification system receiver and a high-definition, full-motion video sensor equipped with optical and infrared cameras," General Atomics says.
Vice-president of international strategic development Tommy Dunehew says the company will "work closely with multiple European allies to demonstrate the capabilities of MQ-9B, including in the maritime environment, and how MQ-9B can complement and team within a networked environment with other national assets."
General Atomics says the demonstration activity "will culminate with the MQ-9B's participation in the UK-led Joint Warrior exercise that will showcase how maritime capabilities can be integrated with other air, surface and land platforms".
"MQ-9B has garnered significant interest from customers throughout the world," the manufacturer notes. In addition to its Protector programme with the UK, the company is also under contract to supply the SkyGuardian to the Belgian armed forces, which will acquire four air vehicles and two GCS. Australia also has selected the type to meet its future medium-altitude, long-endurance UAV requirement, with Canberra expected to acquire between 12 and 16 of the aircraft.
Late last year, the US Department of State also gave its approval for a possible sale of four SkyGuardians to Taiwan, with a deal to be worth a potential $600 million.