Spain has signed for a further batch of 20 Eurofighter combat aircraft, with the acquisition to meet its Halcon programme requirement. Deliveries will commence in 2026, to its air force's 46th Wing at Gando air base on Gran Canaria.
Signed at the ILA Berlin air show on 23 June, the contract was finalised with the NATO Eurofighter and Tornado Management Agency. Madrid had last December given a green light for the acquisition, with its follow-on buy valued at €2 billion ($2.1 billion).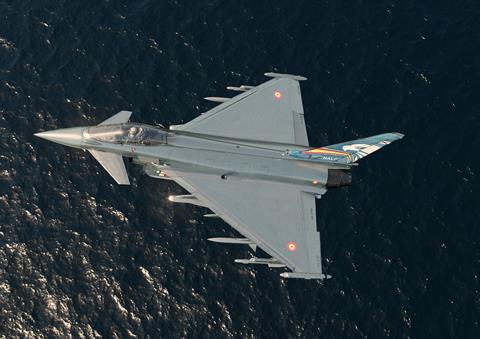 "The order will cover the delivery of a fleet of E-Scan [active electronically-scanned array] radar-equipped fighter aircraft consisting of 16 single-seaters and four twin-seaters to replace the [Boeing] F-18 fleet operated by the Spanish air force on the Canary Islands," says Eurofighter consortium partner company Airbus Defence & Space.
Spain has previously ordered a total of 70 Eurofighters, and began operations with the type in 2003.
Also involving the provision of 48 Eurojet EJ200 turbofan engines, a simulator and support services, the Halcon contract will see the Spanish air force's new aircraft assembled at Airbus's Getafe site near Madrid, with work completed in 2030.
"This additional order reinforces Spain's commitment not only towards the Eurofighter but also to its development and industrial environment," says Airbus Defence & Space chief executive Michael Schoellhorn.
"The aircraft, as with those in the German Quadriga programme signed in 2020, will also be equipped with future-proofed hardware, software, and an even broader multi-role capability for engaging air and ground targets," the Eurofighter consortium says.
The new deal means that the four-nation Eurofighter consortium – which also involves Airbus in Germany, BAE Systems in the UK and Leonardo in Italy, has aircraft in production or on order for the air forces of Germany, Kuwait, Qatar and Spain.