Boeing expects to finish production of its F/A-18E/F Super Hornet within around two years, following the type's defeat in an Indian Navy contest for 26 carrier-based fighters.
"We are likely to cease production around the 2025 timeframe," confirms Bernd Peters, air dominance vice-president business development for Boeing Defense, Space & Security. The company had in February 2023 said that securing a new international order for the type would potentially enable it to continue manufacturing activities until 2027.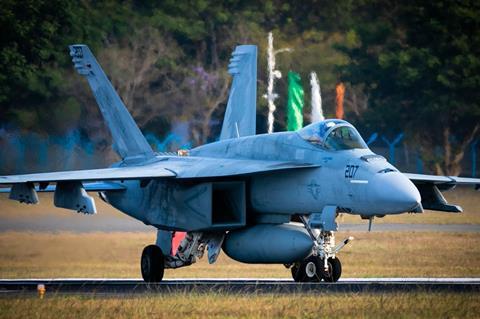 "We're extremely proud of the offer we put forward to India," Peters told FlightGlobal at the Royal International Air Tattoo in the UK on 14 July, one day after New Delhi had announced its selection of Dassault Aviation's Rafale M.
Remaining production of the Super Hornet at Boeing's St. Louis site in Missouri will be for the US Navy, with the service's concluding order still being negotiated.
"We are still working on the final contract for the last aircraft," Peters says. The company has, however, already received some funds to support long-lead activities by its supply chain. It is waiting on approval to build 12 aircraft using fiscal year 2022 funds, and a last eight examples via the FY2023 allocation.
Meanwhile, Peters says Boeing is optimistic of securing an order to supply Israel with up to 50 F-15EX Eagle IIs. A deal is likely to include a firm order for 25 of the new model, plus the same number of options. Indonesia also has previously expressed interest in potentially acquiring 36.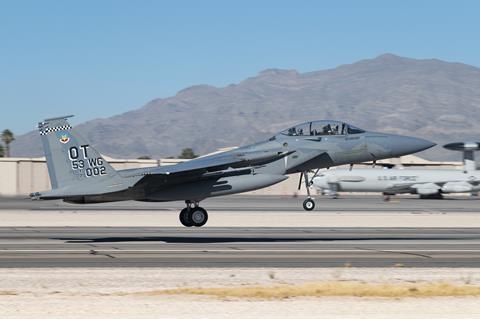 Two EX-model fighters have so far been delivered to support operational test and evaluation work by the US Air Force (USAF).
Although production of the Super Hornet is nearing conclusion, Peters notes that the airframer is investing for a long future in the air dominance sector, even as the USAF makes preparations to acquire a so-called sixth-generation platform.
"We're extremely proud of our fighter heritage. We want to continue to stay in the fighter business, and we are making investments in our production system," Peters says. In addition to its F-15EX output, the St. Louis site also is currently performing work on its T-7A Red Hawk advanced jet trainer for the USAF, plus four MQ-25 Stingray unmanned tankers for the US Navy. Full-rate production of the MQ-25 will be performed at a new factory being constructed at MidAmerica St. Louis airport.

Craig Hoyle joined Flight International in 2003, and has edited the now monthly title since 2015. He has reported on the UK, European and international military aviation sector for more than 25 years, and produces our annual World Air Forces directory.
View full Profile