The Aeronautical Systems division of Northrop Grumman saw operating profits fall 14% year on year to $258 million in its second quarter to 30 June.
Revenue at the unit fell 13% to $2.5 billion, according to the company's second quarter financial release.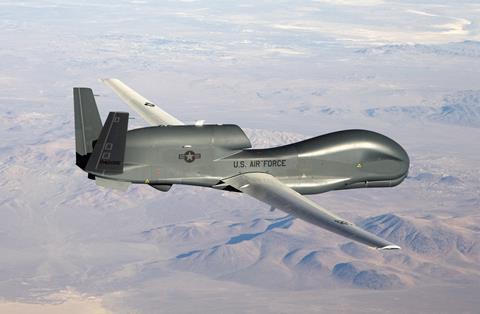 The company attributes the decline to reduced volumes for both manned aircraft and autonomous systems, which covers "restricted" programmes, the company's workshare on the Lockheed Martin F-35, RQ-4 Global Hawk, and others.
"Lower sales reflect continued headwinds from the macroeconomic environment, including a tight labour market and extended material lead times, which are affecting the timing of sales," says the company of its Aeronautical Systems' result.
The company's other divisions are Defence Systems, Mission Systems, and Space Systems.
Overall, the company reported second quarter sales of $8.8 billion, down from $9.2 billion a year earlier.
Overall net profits for the second quarter fell 5.4% to $946 million.
"Northrop Grumman's strategy to provide differentiated solutions in our customers' highest priority areas is delivering results," says Northrop chief executive Kathy Warden.
"In the second quarter, we had outstanding bookings and backlog growth, and strong segment operating margins. Demand for Northrop Grumman products and our operational performance remain strong. We are affirming our full year guidance, as we see the tight labour market, that has impacted our growth in the first half, beginning to ease in the second half of the year."