Switzerland has moved a step closer to commencing operations with Elbit Systems' Hermes 900 unmanned air system, with its first two of six aircraft having arrived in the country late last month.
Deliveries of the lead unmanned air vehicles (UAVs), plus two ground control stations, were made to Emmen air base on 21 and 26 April, Switzerland's Federal Department of Defence, Civil Protection and Sports says.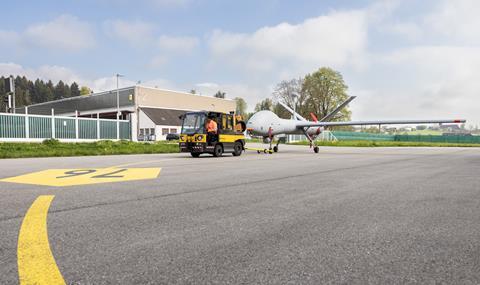 Following their assembly by Elbit personnel, the aircraft – registrations D-11 and D-14 – will undergo functional checks.
"Over the coming months, they will undergo flight testing before being handed over to the air force in [the second half of] 2022," it adds. The test process will be performed by the nation's Armasuisse procurement body, with a first flight due by mid-year.
Locally designated as the ADS-15 reconnaissance drone system, the Hermes 900 was selected by Bern in 2014, with an order having been finalised late the following year. This also includes the provision of support equipment and a simulator.
After the Swiss air force's acceptance of the first pair of surveillance aircraft, "the other four drones will follow by the end of 2023", the defence department says.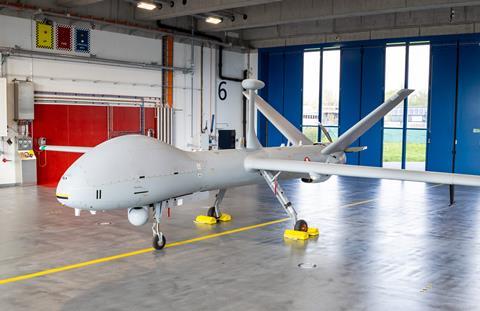 Once operational, its Hermes 900s will perform tasks including military surveillance, plus search and rescue, border monitoring and other duties in support of civilian services such as the police.
The new type's introduction has taken significantly longer than originally planned: at the time of Bern's contract signature in November 2015, deliveries were scheduled for completion within a four-year period. Switzerland currently lacks a tactical UAV capability, having retired the last of its Israel Aerospace Industries/RUAG ADS-95 Ranger aircraft in late 2019.
Elbit says the medium-altitude, long-endurance Hermes 900 has a maximum endurance of 36h when operating at up to 30,000ft. The type can carry a 350kg (770lb) payload, including an electro-optical/infrared sensor and synthetic aperture radar.