Thailand's defence ministry has ordered an additional Airbus Defence & Space C295 tactical transport.
The aircraft will be operated by the Royal Thai Army, and bring Bangkok's C295 fleet to three examples, says Airbus.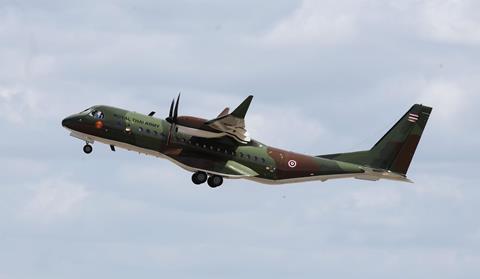 The aircraft will be configured as a utility transport with the delivery planned for 2023. In the Thai army, the C295 serves in missions such as cargo transport, medical evacuation, and paratrooper deployment.
"This additional order from the ministry of defence speaks strongly of its continued confidence in our proven military transport capabilities," says Johan Pelissier, head of Asia-Pacific for Airbus Defence & Space.
"The C295 is gaining popularity in Asia-Pacific due to its modularity, manoeuvrability and endurance capability. The low cost of operation compared to any other platform of its class makes it a good prospect for the militaries. We certainly look forward to supporting the growing C295 fleet in this region."
Airbus notes that it recently secured orders for three C295s for an unnamed defence customer in the region. The new Thailand order will bring the Asia-Pacific C295 fleet to 25 examples.
Cirium fleets data shows that Thailand's army has 215 aviation assets, the vast majority of which are helicopters.
In addition to its two C295s, other fixed-wing assets comprise two Airbus C212s, two British Aerospace Jetstream 41s, two Embraer ERJ135s, and two Beechcraft King Air 200s.
Its most numerous rotary-winged type is the Bell 212, of which it operates 50 examples.