Boeing has delivered the first KC-46A tanker to the Japan Air Self-Defense Force (JASDF), marking the first delivery of the 767 derivative to a customer outside the USA.
Tokyo has orders for four KC-46As, following a Foreign Military Sales deal for one aircraft in December 2017, and it subsequently exercising options for the second, third, and fourth aircraft.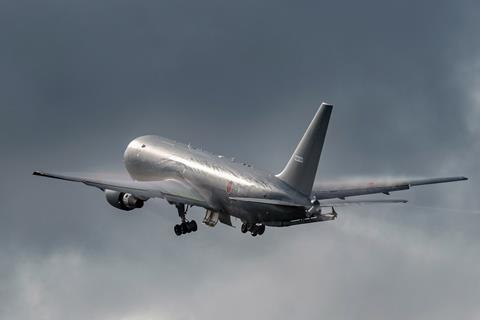 "Japan's acquisition of KC-46A tankers marks a significant milestone for both the programme and US-Japan cooperation in the Indo-Pacific region and plays a critical role in the security alliance between both countries," says Will Shaffer, president of Boeing Japan.
"With its ability to carry cargo and passengers, the KC-46A tanker can also support Japan's humanitarian and disaster relief efforts."
According to Boeing, the aircraft can carry 18 military standard pallets in a cargo configuration, but can also carry a mix of passengers and cargo. It is also equipped with what the company describes as "robust defensive and tactical situational awareness systems".
The KC-46A is capable of refuelling a range of assets operated by the JASDF and the US military, either through its boom or through the hose-and-drogue method.
Tokyo's second KC-46A is in production at Boeing's 767 line in Everett, Washington. The company has said that 16% of the KC-46A's airframe is produced in Japan.
Japan's first KC-46A conducted its maiden flight in February 2021. In August, Boeing released photographs of it conducting air-to-air refuelling work – both delivering and receiving fuel – with a US Air Force KC-46A.