Top Aces has for the first time flown a Lockheed Martin F-16A equipped with its advanced aggressor mission system (AAMS), enabling the legacy type "to replicate the most advanced capabilities of contemporary air-to-air combat opponents".
Enhancements to the aircraft – which the adversary training specialist now brands the F-16 advanced aggressor fighter (AAF) – include an active electronically scanned array radar, infrared search and track capability, electronic-attack pod and helmet-mounted cueing system.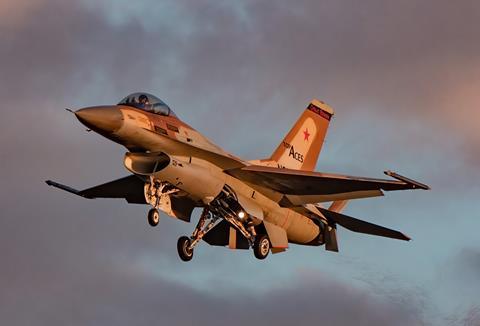 Other modifications made via the AAMS's open system architecture include "high fidelity weapon simulation allowing accurate replication of adversary tactics" and the addition of tactical datalink communications.
The result of a four-year development effort by the company and partner Coherent Technical Services, the package will deliver "a spectrum of realistic adversary effects", Top Aces says. "It also allows for the addition of new and emerging sensors well into the future," the company adds.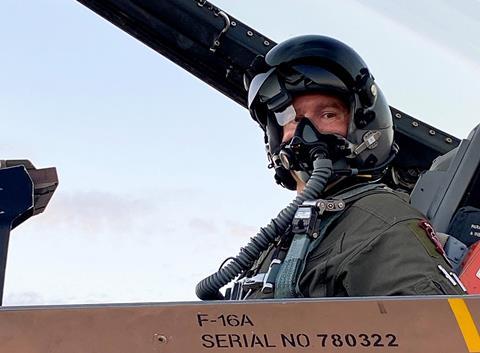 "The F-16 AAF will now execute a series of robust operational test activities in preparation for its entry into service with the United States Air Force," it says.
Cirium fleets data shows that the flight-test aircraft (129) was delivered to the Israeli air force in September 1980 and operated by the service until December 2016. It was acquired by Top Aces in January 2021 and now carries the registration N854TA.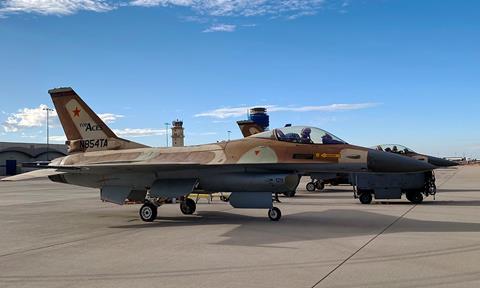 The company plans to upgrade the majority of its F-16s with AAMS "within the next year", with installation work performed by Elbit Systems of America company M7 Aerospace in San Antonio, Texas.
"When you combine the power and avionics of the F-16 with the AAMS, it provides the most realistic and cost-effective training solution available to pilots flying fifth-generation fighters such as the [Lockheed] F-22 or F-35", says Top Aces president Russ Quinn.
Top Aces has already cleared AAMS for use on its Douglas A-4N Skyhawks which deliver adversary training for the German armed forces and other European customers.
Berlin in April 2021 signed a contract extension with Top Aces covering operations from Wittmundhafen air base, with the company also operating Dassault/Dornier Alpha Jets in support of the deal.