China is close to finalising a breakthrough deal to supply the United Arab Emirates (UAE) with up to 48 Hongdu L-15 advanced jet trainers.
Announcing the development on 23 February, the Gulf nation's defence ministry outlined its intention to purchase "12 L-15 Chinese aircraft, with the option for 36 additional aircraft of the same type in the future". The announcement does not specify whether its air force could acquire only trainers, or also light-attack aircraft.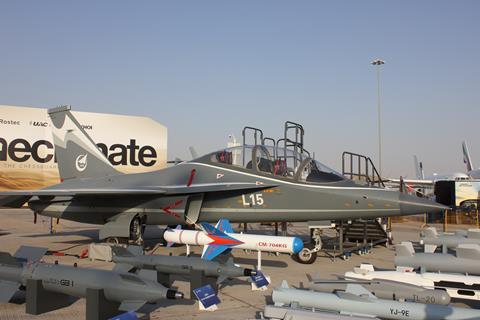 China's AVIC exhibited the L-15 at the Dubai air show last November, with the single-engined type flanked by a variety of air-launched weapons in the static park. The type also participated in the event's flying display.
A report by UAE state news agency WAM quotes Tariq Abdul Rahim Al Hosani, chief executive of the Tawazun Economic Council, as saying: "We have reached the final stages of negotiations with the Chinese side, and a final agreement will be concluded soon".
Al Hosani indicates that the order will be placed in accordance with the UAE's strategy of obtaining defence equipment from a diverse range of suppliers. The nation does not have any Chinese-produced military aircraft currently.
If confirmed, the potentially 48-aircraft order with the UAE would represent China's biggest success with the L-15, which has attracted only limited interest both domestically and on the international stage. Cirium fleets data shows that Beijing has so far fielded only 14 of the type: 12 with its navy and two operated by its air force. CATIC's sole export business to date saw Zambia acquire six examples.
Finalising a high-profile defence equipment order with Beijing is likely to represent another obstacle to the UAE progressing with a potential purchase of 50 Lockheed Martin F-35As. That deal was already strained due to Abu Dhabi's apparent willingness to also work with Russia on new-generation fighters.
Moscow gave an international debut to its Sukhoi Su-75 Checkmate light fighter design at the most recent Dubai show, while there was no participation by the F-35 beyond the presence of a full-scale replica. Abu Dhabi early the following month signed a surprise order for 80 Dassault Rafales.