The United Arab Emirates air force took delivery of its third GlobalEye surveillance aircraft from Saab on 20 February, just 10 months after receiving its first of the heavily adapted Bombardier Global 6000 business jets.
"Completing three deliveries of a solution as advanced as GlobalEye in less than a year proves Saab's solid expertise as a provider of high-technology solutions and our focus on meeting our commitments, especially given the current circumstances," says Micael Johansson, the company's chief executive. "By handling the entire process, including sensor development and integration, we are uniquely in control of every critical part of this complex programme," he adds.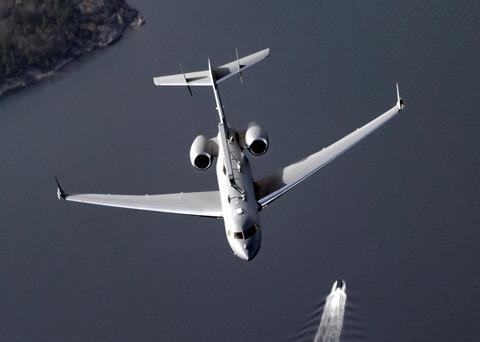 Saab handed over its first Erieye ER airborne early warning radar-equipped GlobalEye to the UAE in April 2020, followed by a second last September. It is on contract to provide the nation with a further pair of the type, under a follow-on deal signed last year.
With an operating endurance of up to 11h, the type is capable of simultaneously monitoring airborne, maritime and land-based threats.