Dassault has scored a record export order for the Rafale fighter, with the United Arab Emirates signing for 80 examples of the multirole type.
The UAE is taking F4-standard jets, becoming the first user for the variant outside of France.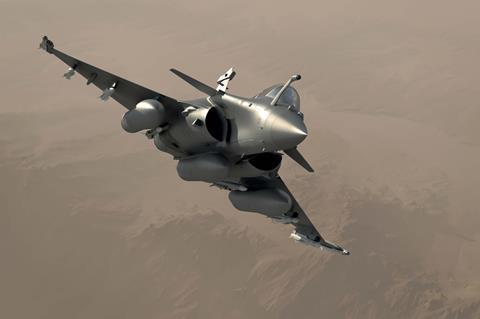 Deliveries are due to run between 2027 and 2031. The French government values the deal at €16 billion ($18 billion): €14 billion for the aircraft and €2 billion for weapons.
The deal with the UAE is the latest in a string of export wins for the French fighter, having previously secured orders from India (36), Egypt (54), Greece (six), and Qatar (36). Greece and Croatia are also each taking 12 Rafales previously operated by the French air force.
Dassault two years ago began modernising the UAE air force's Mirage 2000-9 fighters. Cirium fleets data records the service as operating 44 examples.
In addition, the UAE has ordered 12 Airbus Helicopters H225M heavy-twins.
Both contracts were signed during a visit to the UAE by French president Emmanuel Macron during a wider tour of the Middle East.
Story updated with contract value in the third paragraph.