The United Arab Emirates air force has received its second GlobalEye surveillance aircraft from Saab.
A heavily adapted Bombardier Global 6000 long-range business jet, the aircraft follows a first example which was handed over to the customer in April 2020.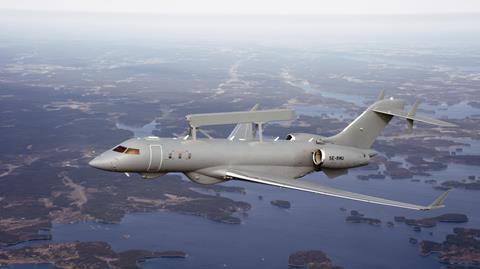 "Completing the second GlobalEye delivery in five months is a testament to Saab's in-house expertise as aircraft manufacturer, sensor provider and large system integrator," says Micael Johansson, the Swedish company's chief executive.
The UAE's second swing-role surveillance aircraft was handed over on 30 September, Saab says.
A third example has already been produced for the customer, which at the 2019 Dubai air show signalled its interest in eventually fielding a five-strong fleet.
Equipped with Saab's Erieye ER active electronically scanned array radar as its primary sensor, the GlobalEye platform is able to perform airborne, maritime and ground surveillance tasks simultaneously.