Fifteen Lockheed Martin F-35Bs from the UK Royal Air Force (RAF) and US Marine Corps (USMC) have embarked aboard the Royal Navy aircraft carrier HMS Queen Elizabeth for a major exercise.
The complement represents "the largest concentration of fighter jets to operate at sea from a Royal Navy carrier since HMS Hermes in 1983", according to the UK Ministry of Defence.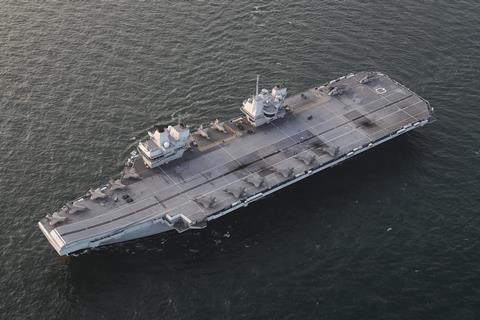 In addition to the short take-off and vertical landing strike aircraft, drawn from the RAF's 617 Sqn and the USMC's MCAS Yuma, Arizona-based VMFA-211 unit, the 65,000t vessel also accommodates eight Leonardo Helicopters AW101 Merlin multi-mission maritime rotorcraft.
To be supported by other UK Carrier Strike Group vessels, the ship and its embarked fighters will participate in NATO's Joint Warrior exercise off the north-east coast of Scotland.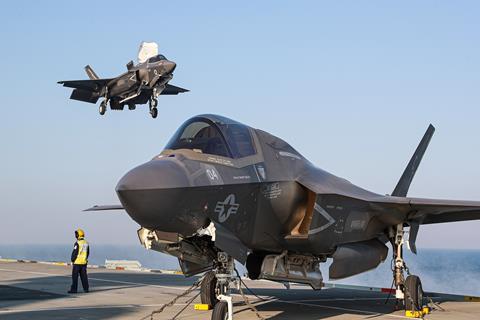 "HMS Queen Elizabeth will be operating with the largest air group of fifth-generation fighters assembled anywhere in the world," notes Commodore Steve Moorhouse, Commander UK Carrier Strike Group. "Led by the Royal Navy, and backed by our closest allies, this new Carrier Strike Group puts real muscle back into NATO and sends a clear signal that the United Kingdom takes its global role seriously," he adds.
"The era of big-deck, fast jet carrier operations is back," adds 617 Sqn commanding officer Commander Mark Sparrow.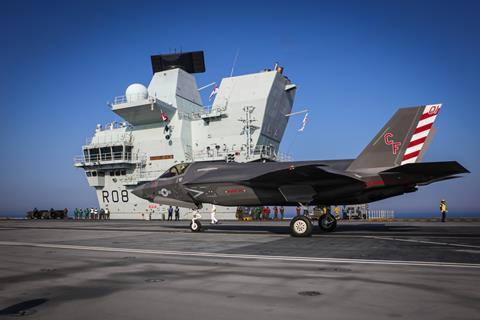 A first operational deployment with Queen Elizabeth and its carrier air wing will be conducted during 2021. The UK also is introducing a second such vessel, HMS Prince of Wales.