The UK and Japan have broadened their already major collaboration on future fighter aircraft technologies, with a new activity to involve jointly developing radar technologies.
Being advanced via a five-year project named Jaguar, the pact will involve the design, production and evaluation of one multi-function radar antenna demonstrator in each of the partner nations. Announced on 15 February, the activity will be conducted from April 2022 by Leonardo UK and its counterparts in Japanese industry.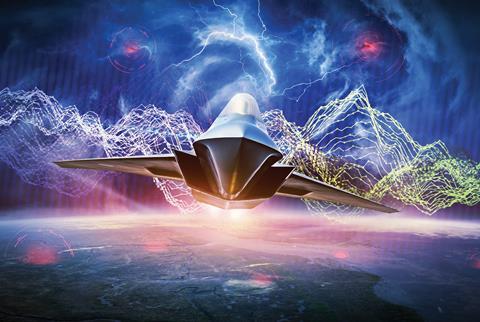 "Jaguar could enable the [nations'] armed forces to better detect future threats from air, land and sea, quickly and accurately locating targets and denying surveillance technology operated by our adversaries", the UK Ministry of Defence (MoD) says.
The MoD has not disclosed the scale of its financial commitment to the project, but expects 75 UK jobs to be created, including 40 engineering posts at Leonardo's Edinburgh site in Scotland.
"As the UK's combat air electronics champion and a founding member of Tempest, we're keen to work with our international allies where their industry has similarly advanced capabilities, bringing together the best of both partners," says Leonardo UK chief executive Norman Bone. "Japan has a strong and growing combat air industry which is a natural fit for Leonardo," he adds.
Working together will "Advance technology that will benefit both of our nations' future combat air endeavours", Bone says.
BAE Systems, Leonardo UK, MBDA UK and Rolls-Royce form the Team Tempest industrial group, tasked with delivering a future combat air system to enter operational use with the Royal Air Force by 2030. Italy and Sweden are also involved in the Tempest project, while the UK's agreements with Tokyo sit separately to the effort.
"We are proud to work ever closer with our partners in Japan to ensure both our armed forces remain at the forefront of military innovation," says UK minister for defence procurement Jeremy Quin.
London and Toyko last December signed a broad-ranging memorandum of co-operation pact, also including a project to jointly develop a future fighter engine demonstrator. This endeavour involves propulsion specialists R-R and IHI, plus airframers BAE and Mitsubishi Heavy Industries.
UK government investment in the engine demonstrator activity is expected to total £230 million ($311 million) over the life of the effort.