The UK's months-long Carrier Strike Group 21 (CSG21) deployment has suffered a significant setback just weeks before its conclusion, with the 17 November crash of a Lockheed Martin F-35B.
"A British F-35 pilot from HMS Queen Elizabeth ejected during routine flying operations in the Mediterranean this morning," the UK Ministry of Defence says.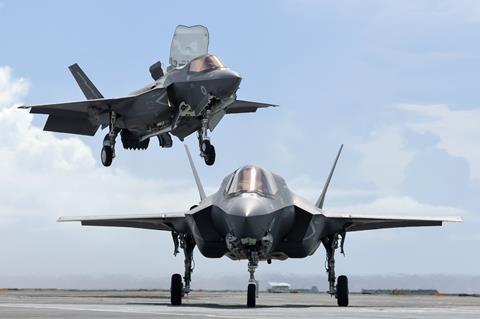 "The pilot has been safely returned to the ship and an investigation has begun, so it would be inappropriate to comment further at this time," it adds.
The crash represents the first loss of a UK-operated F-35B. Lockheed had so far delivered 24 of the short take-off and vertical landing type, which is in frontline service with the Royal Air Force's 617 Sqn. The fifth-generation combat aircraft is equipped with a Martin-Baker US16E ejection seat.
Single crashes involving the F-35 have previously been experienced by the Japan Air Self-Defence Force, US Air Force and US Marine Corps.
CSG21 represents the first operational commitment for the Royal Navy aircraft carrier HMS Queen Elizabeth with an embarked air wing including RAF and US Marine Corps F-35Bs.
The 65,000t vessel left Portsmouth in May, and is due to return next month after a round-the-world deployment.