The UK Ministry of Defence (MoD) is offering seven of the Royal Air Force's (RAF's) surplus intelligence, surveillance and reconnaissance aircraft for disposal via its Defence Equipment Sales Authority (DESA), having ruled out their suitability for use by another operator.
On offer are a pair of retired Boeing E-3D Sentry airborne warning and control system (AWACS) airframes and all five of the RAF's Bombardier Global Express-derived Sentinel R1 ground surveillance aircraft. The latter type is scheduled to be retired from service by the end of March 2021.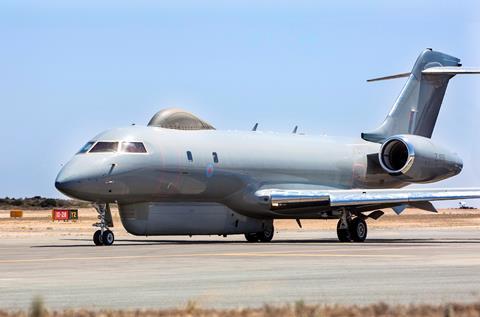 Expressions of interest are being sought by 31 January from "companies wishing to purchase the Sentinel and/or Sentry aircraft and spares for teardown of the aircraft to harvest all reusable parts for potential resale, recycling or disposal and final cutdown and removal of the remaining platforms", the MoD says in an online solicitation. "These aircraft are not for re-use," it adds.
The MoD says that in addition to the Sentinel aircraft, "a significant number of associated inventory spares and ground support equipment" is available. Its pair of 707-based E-3Ds also come with "associated inventory spares", it adds.
"DESA's preference would be to sell the aircraft and or inventory on mass [sic], but partial options may also be considered," the MoD says in its 21 December notice regarding the planned disposal.
Cirium fleets data shows that four Sentinel R1s are in current active use, with the aircraft aged between 16 and 19 years. A fifth had already been withdrawn from use, but placed through an MoD-funded C-check activity ahead of any potential life extension decision affecting the fleet.
Equipped with a Raytheon-produced ground surveillance radar housed within a canoe faring beneath its fuselage, the Sentinel played an important role during the UK's military involvement in Afghanistan – along with campaigns over Iraq, Libya, Mali and Syria – but was deemed surplus to requirements due to the high expense involved with modernising the type.
The extensively adapted Global Express airframes are powered by Rolls-Royce BR710 engines. They are supported in service by Raytheon UK, which in late 2019 spoke of its hope that their use could be extended beyond the March 2021 out-of-service date.
A trio of AWACS aircraft remain in service, with the RAF having progressively reduced the size of its originally seven-strong fleet. The CFM International CFM56-engined assets have an average age of 30 years, Cirium data shows.