The UK Royal Air Force (RAF) remains on track with its push to achieve full operational capability (FOC) with its fleet of Boeing P-8A Poseidon MRA1 maritime patrol aircraft in the fourth quarter of 2024, a service official says.
All nine of the 737NG-based surveillance aircraft have already been delivered to RAF Lossiemouth in Scotland. Their arrival took place at an accelerated pace via a US Foreign Military Sales programme deal, meaning the service still lacks sufficient crews for the fleet.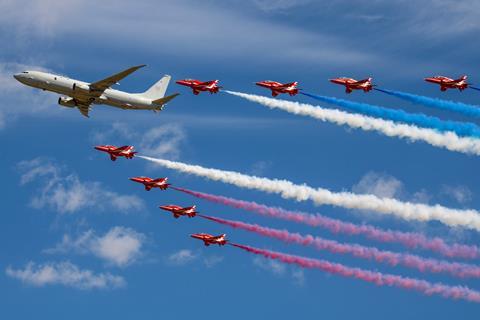 One of the aircraft led the opening flypast on the first day of the 15-17 July Royal International Air Tattoo (RIAT) at RAF Fairford in Gloucestershire, flanked by the service's Red Arrows aerobatic display team.
The UK's Poseidon fleet achieved initial operational capability in 2020, and efforts are continuing to train additional squadron personnel.
"We have to start building the [additional] crews… crew size, crew competence and having the engineers to maintain the aircraft," says Air Commodore Alex Hicks, the RAF's senior responsible owner for the P-8A Poseidon MRA1 programme. "We have got a very clear path to get to FOC," he adds, with that milestone targeted for 1 October 2024.
In an important development, "We are now capable of training our own crews" in the UK, Hicks said at RIAT.
While it is still expanding its operational capabilities and crew strength, the RAF has already conducted its first joint Poseidon training exercise with fellow operator the Royal Norwegian Air Force. Hicks says the service is already looking to establish similar collaboration with future user the German navy. Berlin plans to field at least five of the type as replacements for its current Lockheed Martin P-3C Orions.
Having initially used the Poseidon primarily during activities flown over the North Atlantic, the RAF in February deployed the type to take part in the multinational exercise Dynamic Manta, staged from NAS Sigonella in Sicily.
"We are starting to broaden our horizons and get that [maritime patrol] skill set back," Hicks says.

Craig Hoyle joined Flight International in 2003, and has edited the now monthly title since 2015. He has reported on the UK, European and international military aviation sector for more than 25 years, and produces our annual World Air Forces directory.
View full Profile