The UK has stopped a long-running plan for Argentina to obtain eight Korea Aerospace Industries (KAI) FA-50 light-attack jets.
In a letter dated 28 October, KAI thanked the South American nation for its interest in the FA-50, but said that it has failed to obtain UK export licenses for six major components.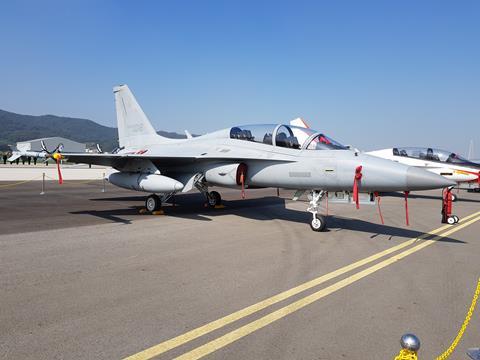 "As you may be aware, the export of six major components produced by UK suppliers for [the] FA-50 is subject to the approval of UK government, which has [an] arms embargo against Argentina in place," reads the letter, addressed to Argentina's ambassador in South Korea.
"It is our regret to inform you that the UK export license issue is not resolved to date. Although KAI did not yet find a solution, KAI is making its reasonable endeavor to resolve this issue."
In a 2002 story about the T-50, the advanced jet trainer on which the FA-50 is based, FlightGlobal reported that BAE Systems was selected to supply the integrated mission display computer, APX-118 identification friend or foe with interface to a traffic collision avoidance system, wide field-of-view head-up display, colour cockpit television system, and integrated up-front control.
UK firm Martin Baker also supplies the jet's ejection seats.
The letter came to light in a 30 October tweet by Argentine defence minister Agustin Rossi. The tweet re-stated the content of the letter, and claimed that the UK move is a "new sample of imperial pride". He added the hashtag #MalvinasArgentinas.
Malvinas is the Argentine name for the Falkland Islands, a British territory in the South Atlantic. Buenos Aires invaded the islands in April 1982, but a UK task force ejected Argentine forces after a bitter 10-week struggle.
The UK subsequently imposed an arms embargo against Argentina, which still claims sovereignty over the Falklands.
The collapse of the Argentine FA-50 sale is a setback for KAI, which had been in serious discussions with Buenos Aires for the eight jets.
In October 2019, KAI vice-president Sang Choi had this to say about the deal: "The Argentine government has already made the decision to buy eight FA-50s, and we have had several serious discussions with them to finalise the configuration, price, and terms and conditions. Industrial participation is very important, so we've been talking with them."
Funding, however, was apparently an issue, and KAI was working to arrange financing through South Korea's import-export bank.