The UK has signed a £2.35 billion ($2.8 billion) contract covering the delivery of ECRS Mk2 active electronically scanned array radars for part of the Royal Air Force's (RAF's) Eurofighter Typhoon fleet.
Announced at the Royal International Air Tattoo on 15 July, the award will see 40 Tranche 3 Typhoons equipped with the Leonardo UK-developed sensor by the end of this decade.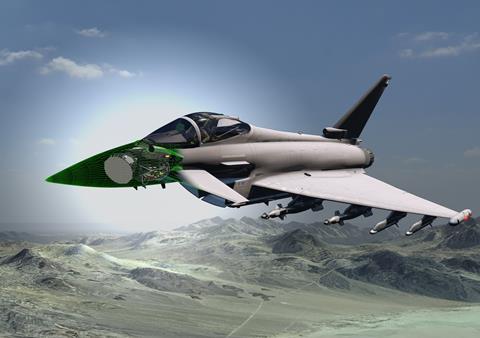 RAF chief of the air staff Air Chief Marshal Sir Mike Wigston describes the modification activity as "the single biggest capability jump for Typhoon since its introduction to service", and "a transformational upgrade".
Conducted as part of a P4E package of enhancements, the project also will involve equipping the aircraft with replacement mission computers and a new sensor management and cockpit interface.
Referred to as 'task-based management', the latter "simplifies the access of information and exploits the radar 2 capability to the fullest extent", Wigston says. This update will also be made to the RAF's Tranche 2 jets, which could later also be equipped with the new sensor.
Leonardo UK will deliver a first flight-test example of the ECRS Mk2 to BAE Systems' Warton site in Lancashire later this year, with trials activities due to commence next year. Initial operational capability is expected to be achieved in 2028.
Once equipped with the ECRS Mk2 radar, the UK's Tranche 3 Typhoons will be able to perform new roles such as the suppression of enemy air defences and electronic attack. New weapons will also be introduced for performing such tasks, including MBDA's Spear EW air-to-surface missile.
Wigston notes that Russia's war in Ukraine "has underlined the importance of control of the air, and the decisive edge that it gives to any operational activity in the land or maritime domain. It has also shown us the importance of control of the electromagnetic spectrum," he says.
"These technological enhancements will maintain the cutting-edge capabilities of Eurofighter Typhoon and help underpin the development path towards the [UK's] Future Combat Air System," says minister for defence procurement Jeremy Quin.
The UK will retire its Tranche 1 Typhoons later this decade, leaving it with a 107-strong fleet of multirole fighters to remain in use until the 2040s. Its Tempest programme should deliver a new manned platform to enter service from 2035.

Craig Hoyle joined Flight International in 2003, and has edited the now monthly title since 2015. He has reported on the UK, European and international military aviation sector for more than 25 years, and produces our annual World Air Forces directory.
View full Profile