The UK Royal Air Force's (RAF's) fleet of eight Boeing C-17 strategic transports is to be modernised under a multi-year contract worth £324 million ($448 million).
Announced by the Ministry of Defence (MoD) on 13 September, the activity will see Boeing "upgrade software and hardware to improve airlift capability", and continue the UK's participation in its Virtual Fleet support mechanism.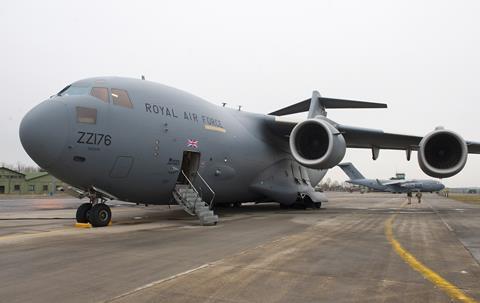 The transport's satellite communication equipment will be enhanced under the five-year-plus project, while wider field of view head-up displays will "increase pilot situational awareness". The MoD says the deal also will expand "current free-fall parachuting capability".
Operated by its Brize Norton, Oxfordshire-based 99 Sqn, the RAF's C-17s entered service from 1991. The type was recently employed during the major coalition airlift to rescue stranded nationals and Afghan civilians from Kabul's Hamid Karzai International airport following the Taliban's return to power.
Meanwhile, under a separate project valued at £64 million, Boeing Defence UK will undertake a self-protection enhancement activity on part of the RAF's CH-47 Chinook HC5 and HC6 transport helicopter fleet.
"The five-year contract will see the installation of state-of-the-art infrared suppression systems, offering better protection from threats posed by new missile systems," the MoD says.
New 'blanking plates' will be installed on the rotorcraft, which the MoD says will "mask the hot components and redirect airflow to cool the exhaust gases, making it more difficult to target".
"This investment ensures our aircraft are equipped with cutting-edge technology to face a myriad of emerging threats from adversaries," says minister for defence procurement Jeremy Quin.