Kelli Seybolt has a key role in driving US Air Force (USAF) engagement with allies, helping ensure airpower capability and deterrence.
Seybolt, Deputy Under Secretary of the Air Force, International Affairs, leads the Secretary of the Air Force International Affairs (SAF/IA) organisation. She spoke to FlightGlobal during the recent Singapore Airshow, both about SAF/IA's priorities, as well as some key acquisition campaigns in the Asia-Pacific region.
She notes that the US Department of Defense places a very high priority on working with allies.
"Allies and partners are a key piece of integrated deterrence, because we recognise that those relationships are key as part of the holistic efforts on deterrence," says Seybolt.
Indeed, a recurrent theme in Seybolt's comments is working with allies. To this end, she says SAF/IA has a handful or priority areas, including improving space cooperation, modernising the Foreign Military Sales (FMS) process, as well as looking at the "exportability, releasability, and interoperability" of US defence systems.
An increased focus on space follows the establishment of the US Space Force under the Air Force Department in 2019. Increasing space cooperation with allies is seen as a very high priority, with a space division set up in SAF/IA.
"In the air force we always worked [space] within SAF/IA, but now that we have a service specifically focused on it, we're looking to really increase that."
In regard to FMS, Seybolt says efforts are focused on making the process "more responsive" to partners, particularly around development costs.
"We're also working on exportability, interoperability and releasability," says Seybolt. "So we're focused very much on looking at getting combat-credible, proven capabilities into the hands of our partners."
This, however, entails making choices between the potential of technology exploitation and operational risks.
"It can't just be technical risk over everything else," says Seybolt. "Because you may protect things, but lose the fight if you don't find a balance."
On the Asia-Pacific – "Indo-Pacific" in US policy parlance – Seybolt says allies are increasingly concerned about the security situation, particularly in the maritime domain. She avoids naming any one country as being at the root of regional concerns, but it is known that Asia-Pacific governments are concerned about China's territorial ambitions, particularly in regard to Taiwan and the South China Sea.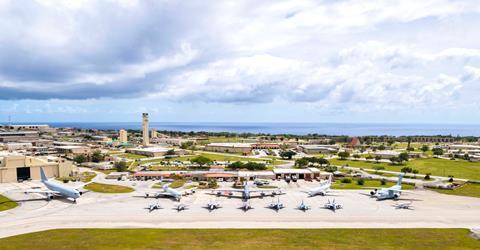 On Taiwan specifically, Seybolt declines to comment on reports that Washington aims to fast track deliveries of 66 Lockheed Martin F-16Vs for Taipei. She does, however, say that a programme to upgrade Taiwan's legacy F-16s to the Block 70 – or F-16V – standard is going well.
"Taiwan is a top priority for obvious reasons from a US strategy perspective, from the challenges that Taiwan is facing with their existing fleet. I can't speak for whether there's been any changes related to what the production line plans are with the various partners, but [Taiwan] is incredibly important because their ability to deter is significant for security in the region."
Another priority for SAF/IA regionally is India. Seybolt notes that she was part of a significant USAF team that attended February 2021's Aero India show in Bengaluru. In September 2021, the US Air Force Research Laboratory and India's Defence Research and Development Organisation announced a plan to work jointly on air-launched unmanned air vehicles (UAVs).
Moreover, the Boeing F-15EX and Lockheed F-16 (rebadged as 'F-21') will compete for an Indian air force requirement for 110 fighters, while the Boeing F/A-18E/F Super Hornet is a candidate for India's new naval fighter.
SAF/IA is also supporting the potential export of about 30 General Atomics Aeronautical Systems MQ-9B UAVs to India. If concluded, India's air force, army and navy would receive 10 examples each.
"SAF/IA supported the establishment of increased [intelligence, surveillance and reconnaissance] capabilities with India in 2020 and the Department of Air Force continues to facilitates India's potential acquisition of MQ-9Bs to support India's border security mission," says Seybolt.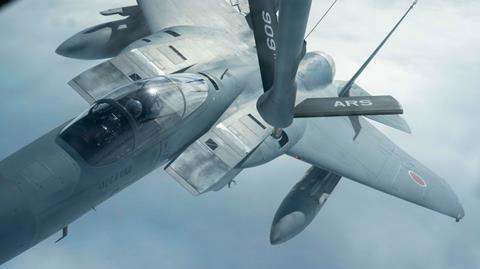 As for Southeast Asia, the focus of the Singapore show, SAF/IA is involved with several potential acquisitions.
Despite Jakarta's decision to obtain 42 Dassault Rafales, Seybolt believes that it remains interested in obtaining the F-15EX. Indeed, one day after Dassault announced Indonesia's Rafale order, the US Defense Security Cooperation Agency released its FMS case for 36 'F-15ID' fighters.
"Indonesians, like many air forces – our own included – know that when it comes to tactical air, having a mix of platforms makes sense," says Seybolt. "A mixed fleet concept makes sense… you want to pick the right capability for the right challenge."
On reports quoting a Thai air force general as saying that the country aims to buy Lockheed F-35s, Seybolt indicates that no immediate discussions are underway, and stresses that an important role for SAF/IA is helping countries determine what makes the most sense.
"Our message with partners who are interested in the F-35 is to really step back and ask, 'What are your requirements? What are the threats you are trying to face?' Because the F-35 may be more than what you need."
She also stresses that countries need to look beyond the acquisition price of an aircraft, and consider the long-term costs and issues around sustainment.
In regard to working more closely with allied air forces, Seybolt says the USAF has established a foreign area officers career field. Foreign area officers are located with allies, have local language skills and understand local customs. The move is aimed at deepening and enhancing relationships with other air forces.
"I think it's a big show of respect that we have people who are culturally astute, who understand the region, and speak the language," adds Seybolt. "It's a big forward progress for us, and it also emphasises the importance of allies and partners."