The US government has approved a $450 million sustainment package for Lockheed Martin F-16s operated by the Pakistan air force.
The proposed package lists several items, including the F-16's structural integrity programme, the international engine management programme, spare parts, and other services and equipment related to the type, according to the US Defense Security Cooperation Agency (DSCA).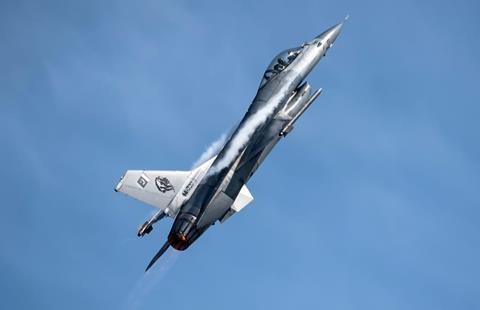 "This proposed sale will support the foreign policy and national security objectives of the United States by allowing Pakistan to retain interoperability with US and partner forces in ongoing counter-terrorism efforts and in preparation for future contingency operations," says the DSCA.
"The proposed sale will continue the sustainment of Pakistan's F-16 fleet, which greatly improves Pakistan's ability to support counter-terrorism operations through its robust air-to-ground capability. Pakistan will have no difficulty absorbing these articles and services into its armed forces."
The package does not, however, include new capabilities, weapons, or munitions.
The lack of capability improvements could reflect Washington DC's increasingly warm ties with Pakistan's archrival India.
Moreover, Pakistan has become closer to Beijing in recent decades, including the joint development of the Chengdu/Pakistan Aeronautical Complex JF-17. Pakistan is also the first international operator of the Chengdu J-10C, which in Chinese service performs similar missions to the F-16.
Cirium fleets data indicates that Pakistan operates 57 F-16A/Bs and 18 F-16C/Ds, with an average age of 30.8 years.