The US government has approved Foreign Military Sales (FMS) deals related to the Japan Air Self-Defense Force and the Republic of Singapore Air Force (RSAF).
In a pair of notifications, the Defense Security Cooperation Agency (DSCA) approved a possible $293 million sale of Raytheon AIM-120-7/8 Advanced Medium Range Air-to-Air Missiles (AMRAAMs) to Tokyo, and a $630 million deal for Singapore, mainly comprising of ground attack munitions.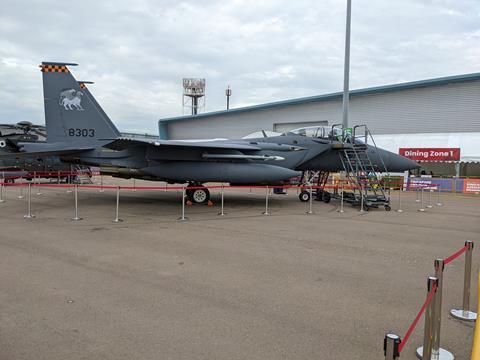 The possible Japanese deal covers 150 AMRAAMs and other equipment, as well was services and support for the transaction.
"This proposed sale will support the foreign policy goals and national security objectives of the United States by improving the security of a major ally that is a force for political stability and economic progress in the Asia-Pacific region," says DSCA.
"The proposed sale will improve Japan's capability to meet current and future threats by defending the Japanese homeland and US personnel stationed there. Japan already has AMRAAMs in its inventory and will have no difficulty absorbing these missiles into its armed forces."
The proposed Singapore deal references the RSAF's contingent of Boeing F-15SG fighters based at Mountain Home AFB, Idaho.
It includes hundreds of guidance kits for bombs, various bombs, 20 Joint Attack Direct Munitions, as well as services and equipment related to the sale. Also included are jet fuel and aerial refuelling support for the RSAF.
"The proposed sale will enable the Singapore Air Force to continue its flight training program to develop mission-ready and experienced pilots to safely and effectively fly its F-15 aircraft, as part of the Peace Carvin V Detachment Training Program," says DSCA.
"The well-established pilot proficiency training program at Mountain Home Air Force Base will support professional interaction and enhance operational interoperability with US Forces. Singapore will have no difficulty absorbing this equipment and support into its armed forces."