The US Navy (USN) has signed a $159 million contract to acquire another 36 Leonardo Helicopters TH-73A trainers, boosting its firm commitment to the AW119Kx derivative to 104 aircraft.
Announced by the US Department of Defense on 17 December, the deal "exercises options for the production and delivery of 36 [Lot III] TH-73A aircraft and initial spares in support of the Advanced Helicopter Training System programme".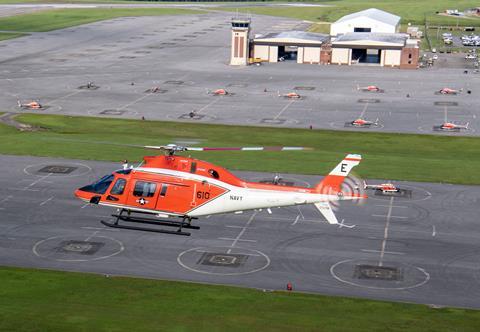 "Work is expected to be completed in December 2023," the DoD adds, with the helicopters to be assembled at Leonardo's Philadelphia, Pennsylvania site.
Two previous TH-73A production contracts placed with Leonardo's AgustaWestland Philadelphia business included an initial 32 examples for $177 million and a Lot II batch of 36 valued at $171 million.
The USN's Advanced Helicopter Training System programme calls for the delivery of 130 aircraft by 2024. Its first example of the light-single was handed over in June 2021.
"The TH-73A will be used to train the next generation of student aviators from the US Navy, Marine Corps and Coast Guard," Leonardo notes.