Approval has been granted by the US government for the potential sale to Finland of the Boeing F/A-18E/F Super Hornet and Lockheed Martin F-35 as part of the Nordic nation's HX fighter replacement programme.
Worth a total $14.7 billion, the Super Hornet deal comprises 50 E-model single-seaters, plus eight examples of the two-seat F-model variant, alongside 14 EA-18G Growler electronic warfare aircraft.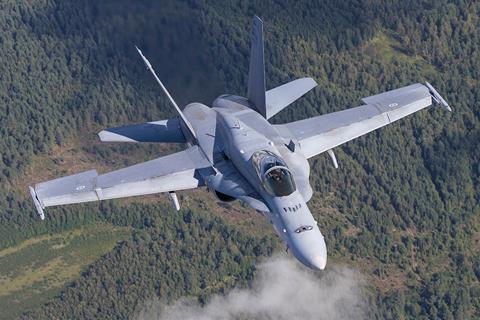 The F-35 sale, meanwhile, would comprise 64 conventional take-off and landing A-model examples, worth $12.5 billion.
According to a notification from the US Defense Security Cooperation Agency, both purchases also feature installed and spare engines, munitions – including the Raytheon AIM-9X Sidewinder and Lockheed AGM-158 JASSM-ER – countermeasures, training and logistics support. In addition, electronic warfare equipment would be supplied for the Growlers.
Helsinki is seeking to replace its air force's elderly F/A-18C/D fighters under the HX effort. The US-built fighters face competition from the Dassault Rafale, Eurofighter Typhoon and Saab Gripen E.
Contract award is due in 2021, with the Hornet fleet to be phased out by 2030.