The US government has cleared a $259 million avionics upgrade package for Turkey's fleet of Lockheed Martin F-16 fighters.
The potential sale could see Ankara's F-16s receive software upgrades that include the Automatic Ground Collision Avoidance System, hardware updates to improve information distribution, as well as spare parts, support, training, publications, and other elements related to the upgrade, according to the US Defense Security Cooperation Agency (DSCA).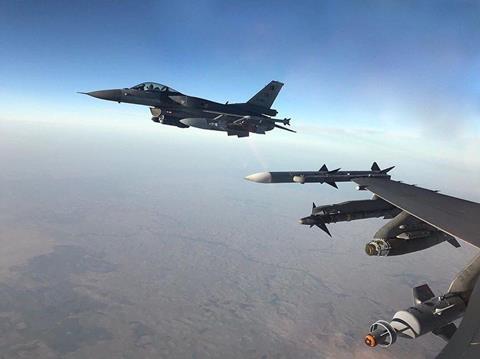 "This proposed sale will support the foreign policy and national security objectives of the United States by helping to improve Türkiye's interoperability with NATO and ensure safety of flight for Türkiye's existing F-16 aircraft," says the DSCA.
"The proposed sale will improve Türkiye's capability to meet current and future threats and assist in defending its homeland and US personnel stationed there."
While Turkey is an important US ally, combat aircraft have become a major sticking point between the two countries in recent years. Ankara's determination to obtain Russia's S-400 surface-to-air missile system in the face of US opposition saw it evicted from the Lockheed F-35 programme in 2019.
Ankara has also acted as a spoiler to Finland and Sweden's decision to join NATO following Russia's invasion of Ukraine in 2022. While Finland recently joined the defence grouping, Turkey continues to delay Sweden's accession.
Turkey opposed the two countries' accession on the grounds they supported the Kurdistan Workers Party – a Turkey-based militant group designated as a terrorist organisation by the USA and EU.
Ankara's stance has delayed the sale of 40 F-16Vs, with some US politicians having insisted that no sale can go ahead until Turkey ratifies the accession protocols for both Finland and Sweden.
The country currently operates 243 F-16C/Ds, according to Cirium fleets data. Turkey aims to modernise 79 examples.