US officials have approved the sale of an additional eight Lockheed Martin F-16 Block 70 fighters to Bulgaria.
Worth an estimated $1.6 billion, the acquisition includes four C-model single-seaters and four twin-seat D-models, alongside engines, systems – including a Northrop Grumman APG-83 active electronically scanned array radar – and training and logistics support.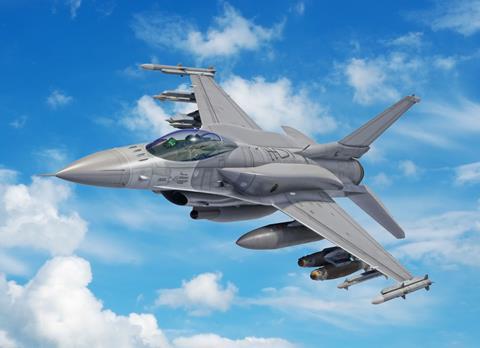 A weapons package features Raytheon Missiles & Defense AIM-120C beyond-visual-range and AIM-9X air-to-air missiles, Boeing GBU-39 small diameter bombs, plus four Lockheed AAQ-33 Sniper targeting pods.
Announced by the US Defense Security Cooperation Agency (DSCA), the potential purchase by Sofia – through the Foreign Military Sales process – "will support the foreign policy and national security objectives of the United States by helping to improve the security of a NATO ally that is a force for political stability and economic progress in Europe," it says.
"The proposed sale will improve Bulgaria's capability to meet current and future threats by enabling the Bulgarian air force to deploy modern fighter aircraft routinely in the Black Sea region," says the DSCA, citing interoperability with other regional F-16 customers.
In 2019, the DSCA cleared a similar deal for eight F-16C/Ds for Bulgaria, also worth $1.6 billion.