The US military has confirmed that a Bell Boeing MV-22B Osprey aircraft has crashed in California.
"We can confirm that an aircraft belonging to 3d Marine Aircraft Wing crashed near Glamis, California. Military and civilian first responders are on site," the Naval Air Facilty El Centro wrote on its Facebook page on 8 June.
"Contrary to initial reports, there was no nuclear material on board the aircraft."
The US Marine Corps (USMC) posted a similar message to its Twitter feed.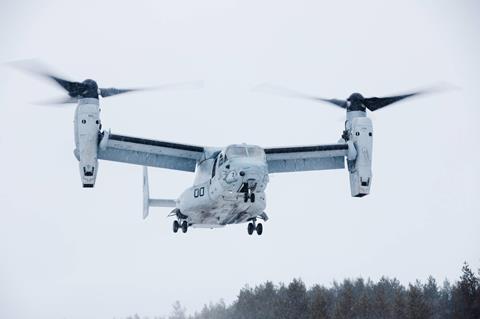 The crash site is located in the desert a few miles north of the US-Mexico border and west of the California-Arizona border. The aircraft was assigned to a USMC air wing based out of San Diego.
According to local news reports, the crash happened at about 12:25 local time, and at least four people were on board. It is unclear if any have survived.
It is the second MV-22B that has gone down this year. On 18 March, a USMC aircraft of that type crashed in northern Norway during a NATO military exercise, killing its four crew members. The exercise, which was planned by the Norwegian armed forces, was designed to test the ability of partners and member nations to operate in a cold weather environment on land, air, and sea.