Aero Vodochody has won its most significant export deal yet for the L-39NG, with Vietnam to take 12 of the modernised jet trainers between 2023 and 2024.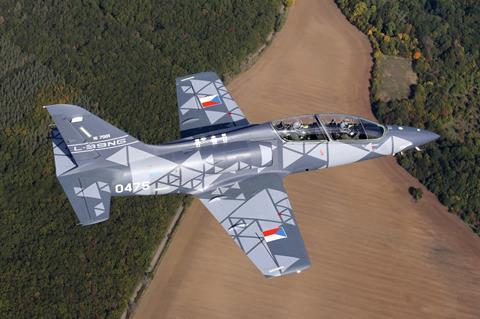 The sale, which includes the supply of training, spare parts and other logistics support, was concluded by the Czech Republic's defence export organisation Omnipol, a 49% stakeholder in the manufacturer.
Omnipol president Jiri Podpera hailed the contract as "an important milestone" for the Williams International FJ44-4M-powered L-39NG, which flew for the first time in December 2018.
The Senegal air force is the only other firm customer for the type, having committed to four examples. Flight training providers RSW Aviation and SkyTech had earlier committed to 12 and 10 examples respectively, but negotiations are understood to be ongoing.
The L-39NG has also been pitched to European neighbours Hungary and Slovakia.
Vietnam has been a long-time operator of the L-39NG's Albatros predecessor, one of the most prolific communist bloc jet trainers. More than 2,800 L-39s were delivered around the world during the Cold War, including 31 to Vietnam.
The L-39NG shares a basic structure with the original variant, but the engine, flightdeck, canopy, landing gear, and ejection seats are all new, along with aspects of the airframe, including a "wet wing".
In September last year, the Czech defence ministry certificated the L-39NG, clearing the way for customer deliveries.
Earlier in 2020, Hungarian entrepreneur Andras Tombor bought a 51% stake in Aero Vodochody from Czech investment firm Penta, with Omnipol holding the remaining 49%.
Story updated with details about status of commitments from RSW and SkyTech.