A UK industry team continues to make progress on the development of a lightweight affordable novel combat aircraft (LANCA) demonstrator for the UK Ministry of Defence.
Team Mosquito, let by Spirit AeroSystems Belfast, was selected in January for the £30 million ($41 million) project. Initially also including Northrop Grumman UK, research and development firm Intrepid Minds was added to the consortium in April as avionics supplier.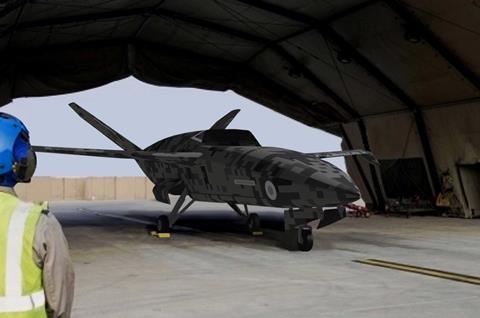 Spirit says "work is proceeding at pace" against the project's target of flying a full-scale demonstrator of the unmanned fighter by the end of 2023.
"The programme's key milestones are naturally being reviewed as the demonstrator configuration is matured and refined on the path to manufacture and flight test," says Spirit.
However, Spirit – formerly Bombardier Belfast – declines to say whether the team will also fly any sub-scale prototypes.
"We are currently working on several substantive development activities to support the project's key demonstration objectives as we work towards the flight-test demonstration," it says.
In addition, there are no details yet of any other suppliers to the programme, with an engine provider notably absent. Spirit adds: "As the project matures, we will identify further partners and suppliers as appropriate.
"We are very happy with the current composition of Team Mosquito. We are confident we have the right partners on board with Northrop Grumman UK and Intrepid Minds, and the developing team, to ensure delivery of the project's objectives."
During initial phase-one activity, three teams were selected to produce preliminary system designs for the unmanned air vehicle. These were led by Blue Bear Systems Research, Boeing Defence UK and Callen-Lenz, whose Team Black Dawn also included Bombardier Belfast – a business acquired by Spirit in October last year.
But flight-control specialist Callen-Lenz was a surprise omission from Team Mosquito when it broke cover in January.
The LANCA effort is exploring the potential of using such a platform as part of a future combat air system capability, including as an adjunct – or so-called loyal wingman – to the Royal Air Force's proposed Tempest fighter.