Air Arabia Group expects to return all its aircraft to service by March 2022 as it looks forward to eventually extending its reach with larger Airbus narrowbodies.
Speaking to FlightGlobal in the Air Arabia Airbus A321LR that is part of the static display at Dubai air show, chief executive Adel Ali says the budget operator's product is strongly matched to the demands of passengers as the travel industry emerges from the Covid-19 crisis.
"People want to fly non-stop to their home city and they don't want to sit for too long on an aeroplane," he suggests.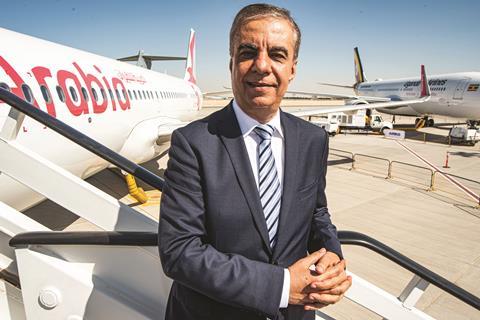 With Air Arabia's focus being on "flying to as many destinations as possible" using narrowbody jets, Ali's attitude towards the airline's post-Covid strategy is to "do what you have done [pre-Covid], because it's working".
The near-term plan is to bring all of the airline's current fleet back into service over the coming months – a milestone Ali says should be reached in March 2022, "subject to Covid not giving us more surprises". After that, the growth potential will eventually come from incoming aircraft.
Air Arabia ordered 120 A320-family jets at 2019's Dubai air show, comprising 73 A320neos, 27 A321LRs and 20 A321XLRs. Ali says the group is sticking with the pre-Covid plan to start taking deliveries from 2024.
Some 40% of those jets are for "fleet replenishment", Ali says, while the rest will be for growth.
"In Sharjah we need probably organic growth, Abu Dhabi still has a long way to go [in terms of growth potential], Morocco needs a little bit of growth, Egypt is getting better so we will probably need to grow that, and then we've got two new airline start-ups [in Armenia and Pakistan], so we'll see what that brings," he states.
The A321LRs and A321XLRs will also give Air Arabia more opportunity "to expand to areas we couldn't go" before.
The A320 – of which Air Arabia Group has 52 in its fleet – has around five hours' range, Ali explains, with the A321LR – of which Air Arabia already has six on lease – extending that to seven hours.
"With the A321, pre-Covid we were regularly going to Kuala Lumpur in Asia, Vienna and Prague," Ali says. "And we had ambitions to expand to other places in southeast Asia and Europe."
As markets recover, the carrier intends to act on those ambitions again. And when it eventually takes the A321XLRs it has ordered, "that basically takes your seven hours to eight hours, eight-and-a-half hours".
When those flights are launched, Ali is confident that Air Arabia's onboard product will not need to be adjusted.
"From a seat and product on board this is better than any legacy airline economy cabin," he claims. "Why change?"