The China National Aero-Technology Import & Export Corporation (CATIC) and MRO firm GAL have opened a support centre in the United Arab Emirates (UAE).
GAL, part of the UAE's EDGE defence grouping, says the new Middle East & Africa Distribution Center (MEADC) "will significantly improve the availability of aircraft spare parts in the UAE and wider [Middle East and Africa] region".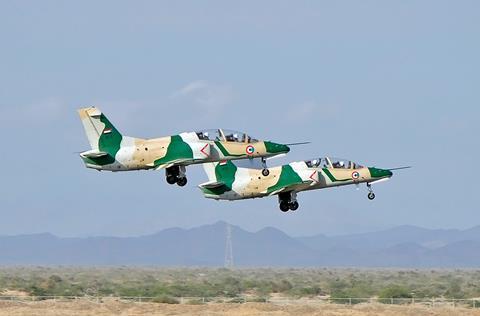 The 1,440sq m (15,500sq ft) facility is located in the Abu Dhabi Airport Free Zone, and the development was first announced at the 2019 Dubai air show. GAL says it will reduce the delivery times for aircraft spare parts "from weeks to fewer than 48h".
State-run CATIC is the primary exporter of Chinese aerospace products, including aircraft and unmanned air vehicles (UAVs).
The opening of the new facility was announced at the Dubai air show on 14 November.
"CATIC is thrilled to have worked with GAL over past years and feels a great sense of pride and accomplishment at the MEADC's realisation," says CATIC chairman Liu Yu.
"We are excited to see how the first regional aviation distribution hub will benefit the UAE and feel this endeavour has solidified our place in the MENA region. CATIC will continuously work together with GAL to explore more possibilities in the future."
Cirium fleets data suggests that 20 Chinese-built aircraft are in service with African air forces. The Angolan air force operates 14, comprising 12 Hongdu K-8 trainers – which also have a ground attack role – and two AVIC Xian MA60 transports. Sudan's air force operates six Guizhou JL-9 trainers.
In addition, Nigeria has taken delivery of three Chengdu/Pakistan Aeronautical Complex JF-17 Thunder fighters.
Beijing has also aggressively sold UAVs throughout Africa and the Middle East.