Turboprop manufacturer ATR cites the boom in e-commerce and airline fleet modernisation as key drivers of what it sees as improving demand.
During the Dubai air show ATR detailed order commitments for 25 turboprops, predominantly for the larger ATR 72-600. That includes firm orders from Air Corsica, Afrijet, Binter Canarias and Tarom, as well as seven aircraft form undisclosed customers.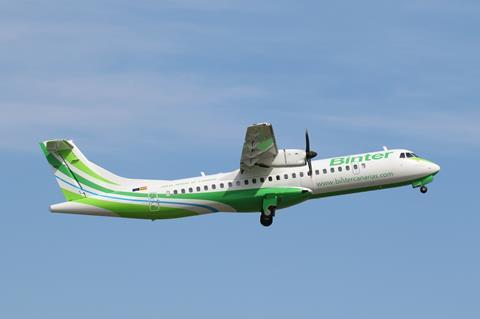 Speaking at a press briefing on 16 November, ATR chief executive Stefano Bortoli said he was hopeful the industry had reached a turning point post-Covid.
"I would say I am optimistic," he says. "I am considering the worst is behind us. I see tangible signs of recovery and the meetings we had in this couple of days are confirming that.
"If we look at our performance in 2021 up to the end of September, we had delivered 16 aircraft, and we are going to almost triple what we delivered in 2020," he says, reaffirming its previous guidance. ATR delivered 10 aircraft in 2020.
ATR senior vice-president commercial, Fabrice Vautier, cites increased fleet renewal activity among airlines.
"We have a big replacement wave. There are already signs of it. We have seen airlines starting that movement," he says.
That includes existing ATR customers upgrading to newer models. "Tarom, Binter, Air Corsica, these are airlines who are replacing -500s with new generation -600s. We see this market has been strong. It is time for airlines to invest in a better product and they are doing that at the moment and we think it will increase."
Vautier also identifies increased demand in the cargo segment. "In the last 18 months we have seen the boom of e-commerce. It has been said the growth in e-commerce has been shifted five years by the crisis," he says, noting this increases the demand for regional aircraft to serve the next day delivery requirements.
"This is not a new trend, but the trend has accelerated. In the last 10 years we have seen an increase in ATR operations by 38% and in the next 10 years we foresee a market for our size of aircraft – which is 5-9 tonnes [payload] – of 460 aircraft. That is the addressable market."
He sees ATR meeting that demand, both through its dedicated 72-600 freighter and through passenger to freighter conversions. "We have had since the beginning of the year 16 conversions already done. That is more than the two previous years. That is a sign of the solidity of the market."
His comments echo those of Rodrigo Silva e Souza, vice-president of marketing at fellow regional aircraft manufacturer Embraer, earlier during the show. He cited e-commerce as the key driver in forecasting demand for around 700 cargo aircraft in the up-to-150-seat segment over the next 20 years and said the manufacturer was studying options for a freighter conversion programme to address this.