EDGE and Embraer are in talks about integrating weapons systems from the Abu Dhabi defence house's Halcon subsidiary on the A-29 Super Tucano military trainer and counter-insurgency aircraft.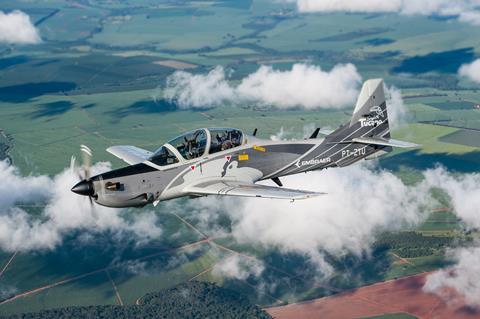 Halcon specialises in drop-launched, unpropelled precision-guidance kits that can be incorporated onto NATO standard Mk81 and Mk82 bombs. It also makes 5-25kg (11-55lb) warheads for its own Desert Sting range.
EDGE announced the move at the Dubai air show. Its chief executive Faisal Al Bannai says it "marks another milestone for EDGE", which was established in 2019 to consolidate most of the United Arab Emirates (UAE) defence industrial assets under one company and umbrella brand.
Jackson Schneider, chief executive of Embraer Defence & Security, says: "[We] are glad to collaborate with EDGE in order to offer current and future A-29 operators even more operational precision and flexibility [with] the addition of Halcon weapon systems to the aircraft's weapons portfolio."