Middle Eastern carriers Emirates Airline and Gulf Air have signed a memorandum of understanding to increase their commercial cooperation.
The MoU signed at the Dubai air show on 14 November includes provision for the two carriers to codeshare on certain routes, offer reciprocal loyalty benefits, and potentially cooperate on cargo services.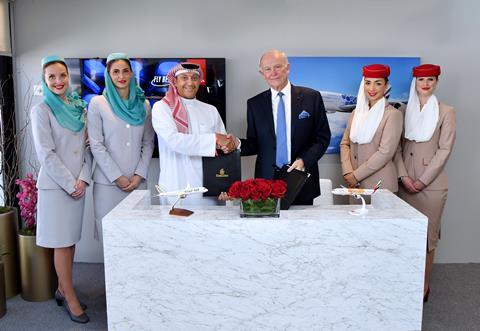 Emirates says it will initially place its code on Gulf Air-operated flights between Bahrain and Dubai, while Gulf Air will add its code to a selection of Emirates routes.
The carriers say the MoU marks "the beginning of closer ties".
It was signed by Emirates Airline president Tim Clark and Gulf Air's acting chief executive Waleed Al Alawi.
In February this year, Gulf Air signed a similar commercial agreement with Etihad Airways as part of plans to "deepen their partnership" in several areas.