Emirates is to retrofit over a 100 of its widebodies with premium economy seats as part of wider cabin upgrade moves which could include a new business class product on its Boeing 777s.
Under an 18-month retrofit programme set to begin at the end of 2022, Emirates will add a premium economy cabin to 52 of its Airbus A380s and 53 Boeing 777s.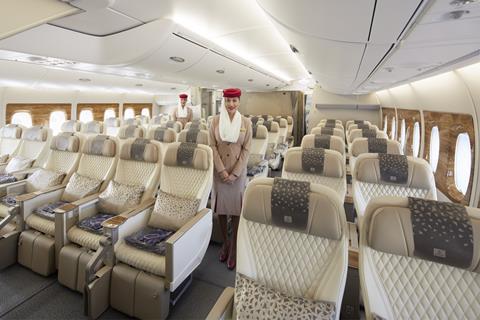 The airline took delivery of its first A380 to feature premium economy – and the first in its fleet – in December 2020. It was the first of six A380s being delivered from the manufacturer in a four-class configuration featuring premium economy. The last two of these are scheduled for delivery in December.
Emirates Airline president Tim Clark says: "Since we introduced our premium economy seats a year back, we've received a hugely positive response."
Emirates will remove five rows of economy seats on its Boeing 777 to install 24 premium economy seats laid out in 2-4-2 configuration. The airline's premium economy cabin on its A380s features 56 seats in a 2-4-2 configuration.
The retrofit work will be carried out at its home base in Dubai.
"We are also considering a brand new business class product," he adds, saying more details will be revealed in "due course".
Speaking during a media round table at the Dubai air show today, Clark said the aircraft upgrade is in part a response to uncertainty around the delivery of aircraft, notably the delayed Boeing 777-9. The first of these was due for delivery last summer, but Emirates is still awaiting a firm date for delivery of the 777-9s amid certification challenges. Boeing said earlier during the air show the programme was "on course" to deliver the first of the type in late 2023.
"If you put a three-year delay on a programme as big as the 777-9, its likely to impact everything we do," Clark says
"We can't wait for people to make up their mind on whether they will be two, three, four years late. So we have to go back to the [fleet] plan. So you will read that we are operating a lot of the [777]ERs, retaining some of the old ERs for longer and looking at the phase out.
"We had a phase out [plan] for the A380 which was mapped up until the mid-thirties. Now if we don't get replacements coming in, that changes things. What the guys are doing now is working the mix.
"The most critical thing is to retain our fleet as large and versatile as it has been. If that means we have to retain older aeroplanes for longer and upgrade them, then that's what we will do."