Indian start up carrier Akasa Air has placed firm orders for 72 Boeing 737 Max aircraft including some for the higher-density Max 8-200 version.
The order was announced today at the Dubai air show.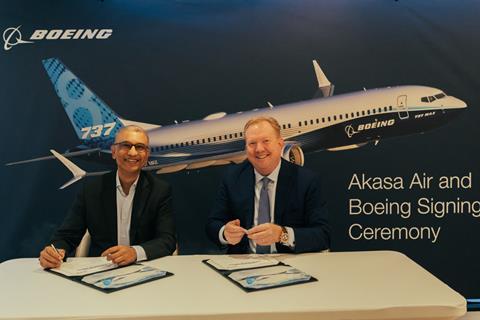 Plans for the carrier first emerged in October, as Akasa outlined its intention to begin flights in the summer of 2022. Akasa is a brand of SNV Aviation.
Akasa chief executive Vinay Dube says: "We believe that the new 737 Max airplane will support our aim of running not just a cost-efficient, reliable and affordable airline, but also an environmentally friendly company.
"India is one of the fastest-growing aviation markets in the world with an unparalleled potential. We are already witnessing a strong recovery in air travel, and we see decades of growth ahead of us."
Dube is the former chief executive of Jet Airways, which operated Boeing 737 Max aircraft prior to its collapse two years ago. SpiceJet is the only active Max operator in India.
While no specific breakdown has been given on how many of the 737-8s will be the higher density version, Boeing vice-president commercial marketing Darren Hulst said it would be a "significant number" of both.
Ryanair debuted the Max 8-200 – a high-density variant that has 197 seats and an extra pair of exit doors – earlier this summer and Hulst says this is fuelling interest for the type, particularly among low-cost carriers.
"In a market where you have a lot of [high] density [routes] like India, that 200 seater is really versatile for those low-cost carriers," he says.