Major commitments for Airbus aircraft from airline investor Indigo Partners for its low-cost carriers and Air Lease, as well as from Indian start-up Akasa Air for Boeing Max 8s drove the bulk of the more than 500 aircraft order and option commitments announced during the first three days of the Dubai air show.
Indigo ordered 255 Airbus A321neo and A321XLR aircraft for Wizz Air, Frontier, Volaris and JetSmart, while Air Lease placed firm commitments for 111 aircraft – including a launch order for the manufacturer's new A350 freighter.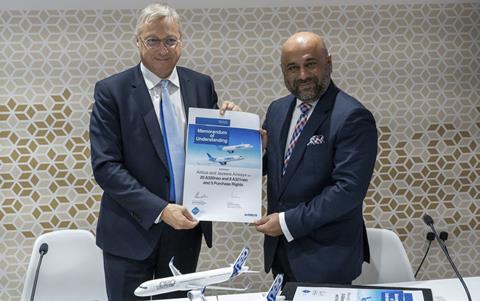 Indian start-up Akasa Air meanwhile signed for 72 Boeing 737 Max 8s.
This accounts for the lion's share of the 479 firm orders disclosed at the show, with the remaining 34 commitments either being letters of intent, options or purchase rights.
The next biggest commitment was the memorandum of understanding for 28 Airbus narrowbodies that Kuwaiti budget carrier Jazeera Airways signed for.
In contrast to order activity at many previous Dubai air shows which have been dominated by Middle East carriers, the tentative deal from Jazeera and two Boeing 777 freighters ordered by Emirates have been the only commitments from operators in the region this year.
The four aircraft ordered by Air Tanzania were previously listed in Boeing's orders and deliveries website attributed to an unidentified customer.
The vast majority of aircraft commitments, 439, were for narrwobodies, with just 15 deals covering widebodies.
Deals for ATR turboprops accounted for 25 of the 31 regional aircraft announced during Dubai.
In logging 513 airliner orders and options, this year's Dubai event – the first air show for 20 months – outstripped the just under 300 deals announced at he 2019 Dubai air show.
Aircraft order/option commitments announced during 2021 Dubai air show
Customer
Country
Manufacturer
Aircraft type
Firm orders
LoI/MoU
Options
FlightGlobal analysis of order announcements as of end of 16 November; options include purchase rights
Wizz Air
Hungary
Airbus
A321neo/A321XLR
102
Frontier Airlines
USA
Airbus
A321neo
91
Air Lease
USA
Airbus
A321neo/A321XLR
75
Akasa Air
India
Boeing
737 Max 8/Max 8-200
72
Volaris
Mexico
Airbus
A321neo
39
Jazeera
Kuwait
Airbus
A320neo/A321neo
28
Air Lease
USA
Airbus
A220-300
25
JetSmart
Chile
Airbus
A321neo/A321XLR
23
Ibom Air
Nigeria
Airbus
A220
10
Air Lease
USA
Airbus
A350F
7
Air Corsica
France
ATR
ATR 72-600
5
Undisclosed
n/a
ATR
ATR 72-600
5
Air Lease
USA
Airbus
A330neo
4
Binter Canaries
Spain
ATR
ATR 72-600
4
1
Afrijet
Gabon
ATR
ATR 72-600
3
Tarom
Romania
ATR
ATR 72-600
3
Overland Airways
Nigeria
Embraer
Embraer 175
3
3
Air Tanzania
Tanzania
Boeing
737 Max 8/Max 8-200
2
Emirates
UAE
Boeing
777F
2
Toki Air
Japan
ATR
ATR 42-600/42-600S
2
Undisclosed
n/a
ATR
ATR 42-500
2
Air Tanzania
Tanzania
Boeing
Boeing 787
1
Air Tanzania
Tanzania
Boeing
767-300F
1
TOTAL
479
30
4