Saab's Micael Johansson is attending only his second Dubai air show as chief executive, but the United Arab Emirates (UAE) and Middle East market are by no means new ground for the former head of its surveillance business area.
Johansson – who assumed the top post at the Swedish company less than a month before the last show – was present when the UAE announced a surprise launch order for the company's GlobalEye surveillance aircraft at 2015's event, and again in November 2019 when it set out plans to grow the fleet to five aircraft.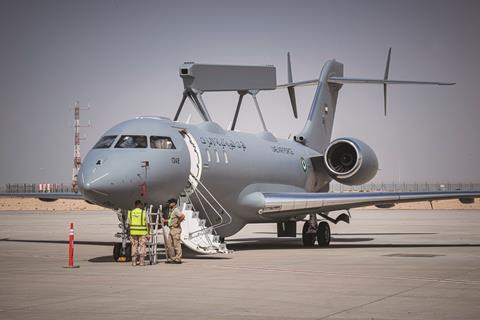 Three of the heavily adapted Bombardier Global 6000 business jets have now been delivered, with the remainder in modification at Saab's Linkoping site.
While the UAE air force has so far revealed little about the operational pedigree of its new model, Johansson says feedback received by the company indicates that "generally speaking they are very pleased with the capability and the performance of the system".
"We have delivered on time and to their expectations," he adds.
Johansson's most recent other visit to the region was to attend February's tri-service IDEX event in Abu Dhabi. "It's going to be really nice to back be at an air show again, meeting people in person," he told FlightGlobal during a 2 November interview.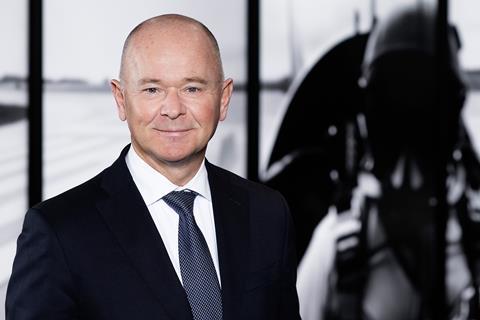 Abu Dhabi-based Saab Ltd has grown to around 125 employees, including "a few Swedes", other foreign nationals and Emiratis. "We are growing that company, and focusing on sensor capability, electronic warfare equipment and training capability related to GlobalEye," he says.
Additional support comes from Saab Middle East, which also oversees the delivery of offset obligations related to the procurement.
Johansson signed an agreement at IDEX under which Saab Ltd will commence research and development work on sensors for military and civilian applications. This activity will be performed at the Tawazun Industrial Park site, where it has had a presence since 2018.
Also in February, Saab pledged to participate in the UAE's Sustain and Enhance Emiratization in Defence and Security – or SEEDS – programme, which strives to further develop domestic capabilities. It also supports the YES! mentorship programme, in partnership with the Dubai Women Establishment.
Further good news is expected for the GlobalEye programme, after the Swedish government on 1 October forwarded approval for its defence ministry to acquire the type to replace Saab 340-based Erieye airborne early warning aircraft. A contract – potentially for two units – might not take too long to materialise, Johansson believes.
Finland is also being offered a pair of GlobalEyes, along with 64 Gripen Es, with an HX programme decision expected late this year or early in 2022. Saab also is awaiting the outcome of a Canadian contest, for a potential 88 new fighters, by the middle of next year.
Nearer-term, the company is getting set to present Brazil's next four Gripens later this month, as they near production completion in Linkoping. Its first export buyer for the Brazilian-designated F-39 received a lead test example in 2020. The milestone will be followed by the shipment of the aircraft in pairs: respectively scheduled before year-end and early in 2022.
Sweden's next two Gripen Es also should be handed over before the end of 2021, Johansson says.
Between them, Sweden and Brazil have ordered 96 aircraft, with production due to gather pace from 2023.
As the Covid-19 crisis took hold in early 2020, Saab took steps to protect its fighter programme, including opting to bring some outsourced manufacturing activities back in-house. "It was definitely the right thing to do," he says. "We couldn't have got the military type certification [otherwise]."
Separately, with its T-7 development partner Boeing promoting the Red Hawk advanced jet trainer at the show, Johansson is very happy with Saab's decision to invest in the programme. In mid-October, he opened a new factory in West Lafayette, Indiana, where rear fuselage sections will be built for at least 351 production aircraft for the US Air Force (USAF).
"I was there two years ago with a shovel in my hand and a helmet on my head, and it was just a field. Now it's a fully-fledged, very modern facility and we have somewhere between 65 and 100 employees setting up for production," he says.
Meanwhile, Johansson is championing Saab's steps to reduce its environmental impact. The company recently signed the Race to Zero pledge, promising to halve its carbon emissions by 2030 and achieve net-zero status by 2050.
It has reported a 15% reduction so far this year, via the use of renewable energy and solar panels on its buildings, adapted transportation and staff travel plans, and the increased use of simulation during testing.
"It was absolutely a no-brainer for me to sign up to this," Johansson says. "We are in an industry that is as committed when it comes to [reducing] environmental impacts as any other. We protect societies, people and borders, and we do that in a professional way."