Boeing Business Jets (BBJ) has a new chief, with newly appointed president Erika Pearson making her EBACE show debut just two days into the role.
Pearson, who has moved over from Boeing's airliner business, says she is delighted by her new post.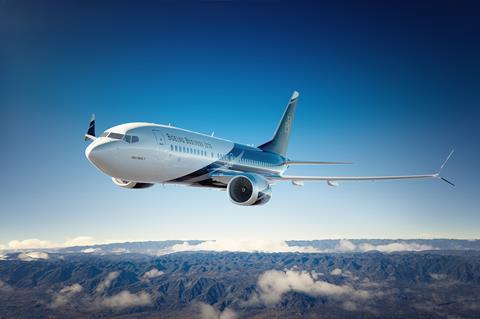 "I'm honoured to be leading Boeing Business Jets at such a dynamic time in business aviation," she told an EBACE press conference on 22 May.
"I'm really looking forward to taking my experience from commercial aviation and translating it to this unique market segment. This is my first time at EBACE and I'm really looking forward to the experience."
Meanwhile, the company unveiled orders for four new BBJ Max aircraft which were booked in the first quarter on the back of "very strong demand", says Alex Fecteau, director of marketing.
"We had a good 2021 coming out of the pandemic… and had four new orders at the start of this year and we are looking forward to finishing up the last half of 2022 even more strongly."
To aid future sale campaigns, the manufacturer has built a BBJ Max 7 demonstrator which will arrive in 2023 following certification of the baseline aircraft and installation long range fuel tanks and its interior.
At present, the BBJ Max family comprises the Max 7, 8 and 9, with no plans at present to extend that to the Max 10.
"I'm not saying we won't offer it but it is not necessarily a good fit for BBJ," says Fecteau, noting that the airframe stretch of 1.64m (5ft 4in) to boost airline passenger capacity has come at the expense of range.
Meanwhile, Fecteau says there has only been a "relatively small" impact on its delivered fleet from the sanctions imposed on Russia and individuals following the invasion of Ukraine.