Business aviation group Comlux is at EBACE with another division under its wing. Comlux Tech, the latest sub-brand from the Swiss company, offers a range of aftersales services, including cockpit and cabin upgrades, base maintenance, pre-purchase aircraft inspections and sourcing flight crew, and complements Comlux's existing activities – aircraft management and charter, completions, and transactions – says chief executive Richard Gaona.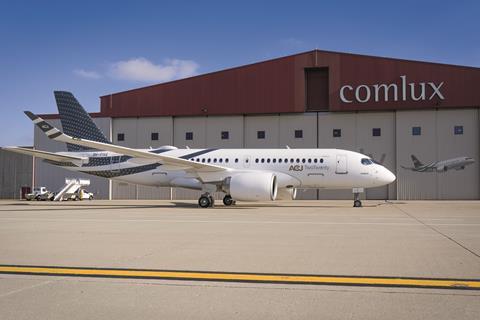 While Comlux has long provided maintenance, repair and overhaul at its Comlux Completion unit in Indianapolis, the firm has lacked the infrastructure to market it to its global client base, many of whom are based in Europe, the Middle East and Asia. To address this, Comlux announced at November's Dubai air show that it will open a maintenance and refurbishment hangar – with room for two Airbus ACJ or Boeing BBJ aircraft – at the city's Al Maktoum airport in late 2023.
The hangar, work on which will commence this year, will embrace a number of environmental features, including solar panels on the roof that will provide half the power for the air conditioning. It will also include offices and a showroom with visual representations of various Comlux interiors.
The Dubai site will also serve as a base for an Airbus ACJ TwoTwenty that Comlux will manage for luxury hotel operator Five. Comlux is seeking maintenance approval for the facility from Airbus and the United Arab Emirates authorities. The company was the launch customer for the variant and says it has customers for another two ACJ TwoTwenty jets it ordered when the variant was launched in October 2020. Gaona says he is considering ordering more.
Five's ACJTwoTwenty is being completed at Comlux Completion. Comlux took delivery of the aircraft – a VIP version of the A220-100, which began life as the Bombardier CSeries – at the end of last year and it will enter service with Five in early 2023. The ACJTwoTwenty is intended to compete with large cabin offerings from Bombardier, Dassault and Gulfstream and can transport 18 passengers for 12.5h non-stop.
Zurich-based Comlux has an agreement with Airbus to outfit the first 15 ACJ TwoTwenty cabins in Indianapolis. The second aircraft is due to arrive there in October this year, with number three following next April. After the first 15 examples, owners will have a choice between Comlux Completion and Airbus's own outfitting facility in France.
Comlux Tech will be run by the parent company's chief operating officer Andrea Zanetto, with Gaona saying the goal is to "develop further the synergies between Comlux Aviation operations, Comlux Transaction expertise and Comlux Completion know-how in VIP cabin engineering and craftsmanship". He tells FlightGlobal: "We already had a lot of these competencies, and Comlux Tech brings them together. Our plans are to grow this business."
Comlux is unique in the world of business aviation charter in that it specialises in airliner-derived jets, with governments among its major customers. Although its managed fleet of 22 aircraft includes Bombardier Challengers, an Embraer Praetor 600, and a Pilatus PC-24, most of its conventional business aviation types are used exclusively or primarily by their owners. Its charter fleet includes a Boeing 777-200LR, 787-8 and 767-200ER, as well as two ACJ319s and an ACJ318.
For such a large operator, the company's model is also unusual in that it does not plan to own assets long-term. It frequently purchases aircraft with the intention of selling them to new owners. "I don't own any aircraft except for those I buy on spec," says Gaona, a former Airbus executive who set up Comlux 15 years ago. "My aim is not to be an aircraft owner. Although I take the risk by ordering aircraft, I have never ended up with a plane delivered that I do not have a customer for."
The company's global footprint and ability to cater to different markets also gives it an edge, says Gaona. Its 777 and 787 are based in the USA, and its 767 in Dubai. One of its 737s, based in London, is fitted in an all-executive layout and is popular with traveling sports teams and performers. Its ACJ318 has its home in Clark in the Philippines. "A lot of customers are not prepared to pay for empty leg repositioning flights, so having aircraft on the doorstep is an advantage," says Gaona.
Covid-19 travel restrictions in much of the world impacted the Comlux charter business in the first half of 2021 much more than it did the more resilient market for smaller business jets, says Gaona. However, after July 2021, the lifting of many border closures saw demand for larger aircraft "rocket", and the second half of the year was as strong as the equivalent pre-pandemic period, he says. The first quarter of 2022 continued that trend.
Comlux is showing an ACJ318 that is for sale on the static display. However, Gaona plans to have an ACJ TwoTwenty on display at EBACE 2023. There is even an outside chance of the first aircraft making a brief appearance at the NBAA Business Aviation Convention and Exhibition in Orlando this October.