Gulfstream's flagship G700 has set another city-pair speed record, flying from the airframer's headquarters in Savannah, Georgia to EBACE in Geneva in 7h and 37min.
Fuelled by a sustainable aviation fuel blend, the fully outfitted production test aircraft (N706GD) landed on 20 May and flew at an average speed of Mach 0.90.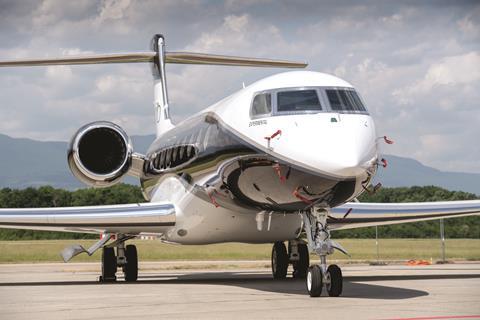 N706GD set its inaugural city-pair speed record in September 2021 when it flew from Savannah to Doha, Qatar. It then flew on to Paris Le Bourget.
The 7,500nm (13,900km)-range twinjet is on the static alongside stablemates the G650ER, G600, G500 and G280. Gulfstream is aiming to certificate and deliver the first $78 million G700 by year-end. The company recently announced the delivery timeframe could slip three to six months due to a newly required intensive review of the jet's software.
Meanwhile, Gulfstream announced at EBACE that the technical operations contact centre at its Farnborough airport maintenance facility is to be expanded to keep pace with the growing fleet of Gulfstream types in Europe.
The 20,900sq m (225,000sq ft) facility, which opened in June 2020, is the airframer's newest and largest service centre outside its Savannah headquarters, with the capacity to accommodate up to 13 ultra-long-range G650ERs and G700s.