Pipistrel looks set to have a flurry of new and improved products on the market in the coming years as new owner Textron accelerates product development at the Slovenian electric aircraft specialist.
Textron completed the acquisition of Pipistrel in April, bringing the operation into its eAviation business, and appointing Gabriel Massey as president and managing director to run the Slovenian firm.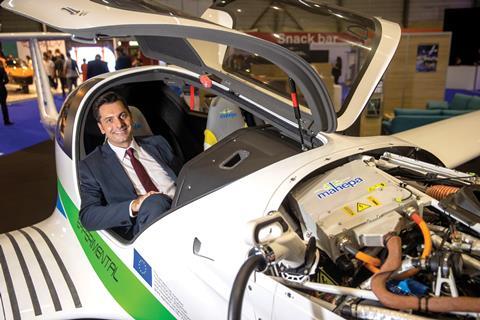 Massey, who has been with Textron Aviation for 18 years, most recently heading up its aftermarket business in Singapore, sees Pipistrel as the perfect addition.
"Pipistrel is pretty much a pillar of that sustainable aviation segment," he says. "From a priority standpoint we want to bring the ideas and products they have to the market faster."
First up, will be a certificated version of Pipistrel's Panthera four-passenger high-performance piston-single, which currently flies on an experimental certificate. Massey expects this to arrive in around two years, followed by a hybrid-electric variant before the end of the decade.
That will use a battery-powered electric motor combined with a small four-cylinder conventional engine to serve as a range extender. Performance characteristics should be in line with the baseline Panthera, says Massey, with the only change a slight reduction in cruise speed.
"The Panthera will be a perfect fit within the existing family of Cessna and Beechcraft aircraft – we haven't something in this exact four-seat, high-performance category before."
Meanwhile, Pipistrel is also working on upgraded batteries for its in-service Velis Electro two-seater – the world's first certificated full-electric aircraft – which should be available in two to three years as the next generation of cells become more affordable.
Massey sees Pipistrel's competence in battery technology, including assembling battery packs, power management and aircraft integration, as key selling points.
"One attraction for us was that Pipistrel is already the leader in electric aviation – they have already made it real; [the Velis Electro] is certificated and flying all over the world – there's a level of maturity there that is not widely available," says Massey.
Additionally, Pipistrel continues to advance on its Nuuva vertical take-off and landing unmanned cargo aircraft as it works towards a first flight of the 300kg (660lb) payload platform next year.