The US aerospace industry's trade group has commenced a study into the durability of rotating turbofan components at the request of the Federal Aviation Administration.
The study follows an FAA request stemming from the 2016 uncontained failure of a GE Aviation CF6 turbofan on an American Airlines Boeing 767. Investigators traced that failure to fatigue cracking of a disk.
As the study progresses, GE says it has launched its own enhanced engine inspection programme.
More broadly, in recent years the industry, regulators and safety experts have sought to address concern about engine failures precipitated by undetected cracks in life-limited components.
Regulations require operators to replace life-limited components, which include high-stress rotating parts, when they reach a designated service life.
Fatigue cracking has been traced to several other recent engine failures, including a 2018 Southwest Airlines incident that killed one passenger. That failure involved a fan blade.
Trade group Aerospace Industries Association (AIA) confirms to FlightGlobal it has commenced a study that will examine the durability of rotating engine components.
At least one engine maker – GE Aviation – has taken a step on its own, having launched a new "Enhanced Life-Limited Part Inspection Program".
AIA declines to say when it began the study or when its review might conclude. The group does not provide additional information.
In a 2018 letter, the FAA requested the AIA's help in identifying means to improve inspections of new and in-service rotating engine parts, including "critical high-energy, life-limited rotating parts for all engines.".
The conclusions, the letter says, could include recommendations and "industry-level" participation.
The FAA's request came in response to the National Transportation Safety Board's (NTSB) report into the 2016 American 767 incident. One of that aircraft's CF6-80 turbofans suffered failure of a "high-pressure compressor stage two disk" due to "low-cycle fatigue cracks", the NTSB found.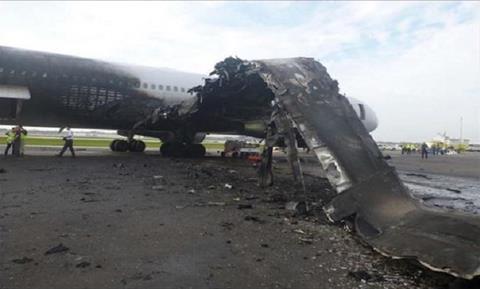 The failure occurred on the ground at Chicago during the aircraft's take-off roll, led to a fire and substantially damaged the aircraft. During evacuation, 21 people were injured, one seriously, according to the NTSB's report.
The FAA did not immediately provide more information about the study it requested from AIA.
GE STEPS UP INSPECTIONS
Engine maker GE says it is already improving inspections, having rolled out an "Enhanced Life-Limited Part Inspection Program."
The company says the effort is unrelated to two Southwest incidents involving CFM International CFM56 turbofan failures. CFM is jointly owned by GE and Safran Aircraft Engines.
"We believe the recommendations from [the AIA] study will be adopted industry-wide," GE says. "As an industry leader, GE has elected to develop these enhanced inspections ahead of any potential directives."
GE's new inspection protocols apply to "life-limited, high-energy rotating disks" in CF6s and CFM56s, and GEnx, which power 787s and 747-8s.
"The initial focus has been high-pressure turbine disks and compressor spools," GE says.
The enhanced inspections will take place during engine overhauls and include "eddy-current or borescope-fluorescent penetrant inspections of spool cavities". They will also include "immersion ultrasonic" inspections of high-pressure turbine disks, fan disks and forward outer seals, GE says.
"Technologies have changed over the years and our understanding of our parts has improved," says the engine maker. "This enables us to develop enhanced inspections which will improve the long-term reliability of our products."
Affected GE and CFM engines will undergo enhanced inspections during overhauls with no changes to maintenance intervals, says GE. The company is also performing the enhanced inspections on new-built engines.
Several other turbofans have suffered failures due to fatigue cracks in recent years.
Those include two inflight CFM56 failures on Southwest Boeing 737-700s – one each in 2016 and 2018. Fan blade failures due to fatigue cracks caused the incidents, the NTSB found.
The 2018 failure killed one passenger who was partially sucked out a window that had been broken by fan cowl debris following the fan blade failure, the NTSB has said.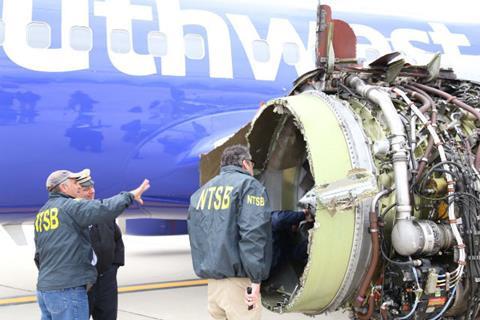 Following that incident, the NTSB required more CFM56 inspections and urged the FAA to mandate that "airplane and engine manufacturers work collaboratively" to study fan blade failures and improve designs, says the accident report. Boeing also pledged to redesign the CFM56's cowl to improve integrity.
Additionally, a United Airlines 777's Pratt & Whitney PW4077 turbofan failed over the Pacific Ocean in 2018 due to a blade crack caused by low-cycle fatigue.
The FAA has taken other steps to address such failures.
A proposed order made public on 12 August would require operators remove some high-pressure turbine rotor stage two disks and compressor discharge seals in GE90s. The move follows reports of anomalies not detected during manufacturing that could cause uncontained failures, the proposal says.
GE tells FlightGlobal it is confirming that "material properties of these parts meet our stringent specifications".
"There have been no findings in finished parts, and the proposed removal threshold will not require any immediate action," it adds.
Also, in June the FAA proposed requiring ultrasonic inspections of GEnx high-pressure turbine rotor stage two disks. The issue, which GE also addressed with additional inspections, came to light after a "subsurface anomaly was found in an early-production" disk, says the proposed rule.