The coronavirus downturn has led Airbus to scrap its planned development of an A320neo engine nacelle that would have competed with nacelles produced by supplier Collins Aerospace.
The reversal stands to affect Bombardier's Belfast, Northern Ireland manufacturing site, which Airbus picked to produce the nacelle, and Spirit AeroSystems, which plans to acquire Bombardier's Belfast site.
Airbus had for several years been moving forward with the effort to develop a competing nacelle for A320neos powered by Pratt & Whitney PW1100G turbofans. The plan did not affect A320neos powered by CFM International Leap-1As. Safran Nacelles makes that variant's unit.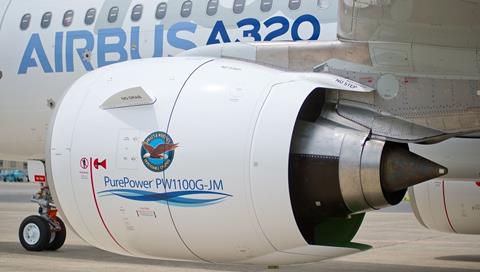 "Airbus has decided it will stop the marketing, development and manufacturing of its own nacelle to concentrate its efforts on the current existing nacelle," the European airframer says in a statement. "As such, only the existing Collins nacelle for the A320neo-family aircraft powered by the PW1100G engine will be offered."
Airbus attributes the change to the coronavirus downturn.
"The unprecedented Covid-19 crisis leaves Airbus with no choice than to revisit all current and future product development activities to protect our cash and reduce as much as possible our expenditures," it says. "We have concluded that it is in the interest of our customers to concentrate on mature and existing product offerings."
Collins, a subsidiary of Raytheon Technologies, declines to comment. P&W is also owned by Raytheon.
Airbus' nacelle ambitions had conformed with an industry trend under which airframers have recently brought more work in-house, competing with suppliers. Boeing also recently took nacelle and propulsions system work back from suppliers.
Collins had expected Airbus would offer a competing nacelle after 2024, when a sole-source contract expired, Raytheon chief executive Gregory Hayes said in 2017. At the time, Hayes was CEO of Raytheon corporate predecessor United Technologies, which performed the nacelle work via its United Technologies Aerospace Systems (UTAS) business. UTAS merged with Rockwell Collins to form Collins Aerospace in 2018.
Also in 2017, Airbus chose Bombardier Aerostructures and Engineering Services as manufacturer of its new nacelles for PW1100G-powered A320neos. That work was to be performed at Bombardier's Northern Ireland site.
Wichita aerostructures company Spirit, which is beset by issues stemming from the 737 Max grounding, agreed last year to purchase the Belfast site, and facilities in Morocco and Dallas, from Bombardier for $500 million.
Spirit says its acquisition plan remains unchanged. The company had said it intended to close the deal by the first half of 2020.