Avio Aero will in the mid-2020s perform rig tests of a GE Aerospace Catalyst turboprop engine boosted by an electric motor driven by hydrogen fuel cells as part of an EU-funded programme.
In September, the Avio Aero-led AMBER consortium was one of 20 projects selected by the EU's Clean Aviation body to receive phase one funding, although it released few details of the proposal.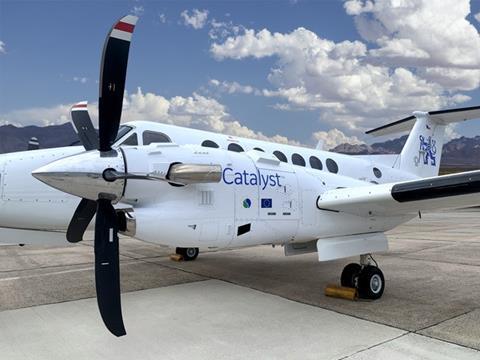 But detailing the project today, GE-owned Avio Aero says it will receive €34 million ($36 million) from Clean Aviation in the four years to 2026. Industry typically at least matches the EU's funding contribution, but Avio Aero has not revealed how much the consurtium will spend on the project.
AMBER plans to "mature, integrate and validate" the technologies required for a 1MW-class hybrid-electric propulsion system powered by fuel cells.
This will include the integration of hybrid-electric components with fuel cells, leading to rig tests using the Catalyst engine in the mid-2020s.
An 850-1,600shp (630-1,200kW)-class engine, the Catalyst will make its service entry on the Beechcraft Denali utility turboprop.
A total of 21 entities – businesses, research institutes or universities – are involved in the consortium, including five of GE's European sites, alongside fuel cell developer H2FLY and airframer Leonardo.
Joby Aviation-owned H2FLY will supply the MW-class fuel cell system for the project, plus the corresponding architecture, interfaces, and fuel cell controls, while Leonardo – which jointly owns ATR alongside Airbus - will provide guidance on aircraft integration for the propulsion system.
Avio Aero is additionally co-ordinating HYDEA, another Clean Aviation-backed project which will trial hydrogen combustion alongside Airbus and Safran.

Dominic Perry is deputy editor of Flight International but also contributes extensively to flightglobal.com. Although specialising in the coverage of the helicopter industry, he has written on most topics in aerospace – be they commercial, defence or business aviation. In addition, there has been an increasing focus on the decarbonisation of the industry and zero-emission flight initiatives.
View full Profile