Canadian aviation regulator Transport Canada has issued a type certificate for Pratt & Whitney Canada's PW812D, the turbofan that powers French airframer Dassault Aviation's in-development large-cabin Falcon 6X business jet.
P&WC disclosed the milestone on 1 December. "With this milestone and the aircraft's test programme progressing smoothly, we are on track for a successful and timely entry into service of the Falcon 6X," says Dassault chief executive Eric Trappier.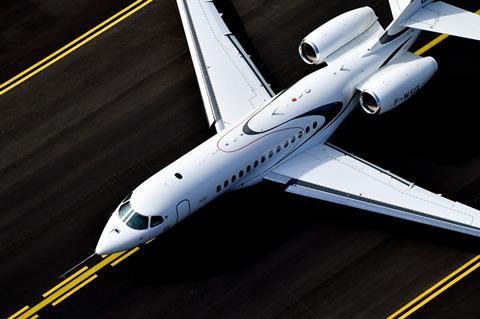 The airframer has said the 6X, with an advertised 5,500nm (10,186km) of range, will enter service in late 2022. Dassault launched the Falcon 6X in February 2018. P&WC says it has logged more than 4,900h of PW812D testing, including more than 1,150h of flight testing.
PW812Ds, with up to 14,000lb (62kN) of thrust, have the same core as Pratt & Whitney's PW1200G geared-turbofan (GTF). Other PW800 variants power business jets including Gulfstream G400s, G500s and G600s.
Dassault completed the 6X's first flight in March.